This site is all about bread machine recipes! If you're looking for a specific bread machine recipe, this page will help. We've got four ways to help you find the recipe that you want. Plus there's a list of our most popular bread machine recipes as well as my personal favorites.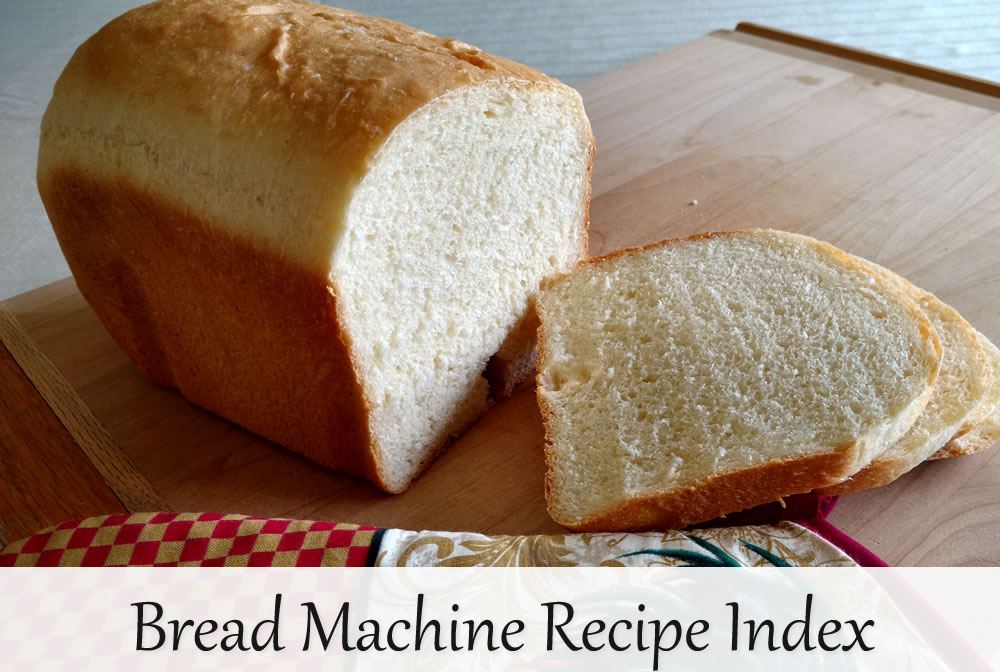 You can search by recipe name or ingredient. You can also view lists of recipes by flour type or bread machine function. Plus we have a list of special collections of recipes for the bread machine.
Bread Machine Recipes
Before we get to the bread machines recipes, I know that a lot of people come to my website for the first time via this page. So here are some quick things you should know.
I make all the bread for my household with my bread machine. Yep, all the bread, hamburger buns, hot dogs buns, dinner buns hoagie rolls and more come from my bread machine.
I've tested and tasted all of the bread machine recipes on this site.
If you like this recipe you may want to sign up for my newsletter or check out my Facebook page.
Search for the Bread Machine Recipe You Want
Enter the name of the recipe or a key ingredient in the search box.
Bread Machine Recipes by Flour Type
Note that in the case of recipes using multiple types of flour, the bread machine recipe will be listed in all categories.
For example, recipes that contain both bread flour and wheat flour will be in the white and wheat flour categories.
White
Wheat
Rye
Semolina
Spelt
Bread Machine Recipes by Program/Course
Wheat, sweet and basic bread settings have all been combined under "Bread Setting."
Note that recipes are sorted alphabetically.
Bread Setting
Dough Setting
Cake or Quick Bread Setting
Home Made Function
Bread Machine Recipe Special Collections
Note that bread machine recipes are sorted alphabetically.
Most Popular Bread Machine Recipes
Every year I update the list of list of the most popular bread machine recipes and articles on the site. I go into more detail on that page, but here's a quick list of the most popular recipes for 2021.
I think this recipe has been at the top spot ever since I started the website. You'll love this bread! We found the crust to be extra flaky and the bread had a cake-like texture. Yum!!
If your machine has a sweet cycle you can use that for this bread. My Zojirushi doesn't have a sweet cycle. So I make this recipe using the basic cycle.
I have three recipes that use the cake (quick bread) cycle of the bread machine. ALL of them made the top five list for 2021!
The first one is this pound cake recipe. It tastes great and is so easy to put together.
Note that I use bread flour in this recipe. That's because I use bread flour for everything. All-purpose flour or cake flour should also work.
Here's the story on this recipe, one day I had a few extra eggs in the refrigerator. So I decided to try and make egg bread. I'm so glad that I did!
The crust is soft and is flaky on the top. The bread's texture is soft but has a solidity that makes it a natural for sandwiches.
Eggs bring a lot to this or any bread recipe. First of all, eggs bring color, nutrition and a little extra flavor to any bread recipe. Eggs also contain lecithin. That's a fat that makes the ingredients mix better and gives the bread a nice crumb.
This recipe took me years to find! I wanted a bread machine recipe for banana bread that actually cooked the bread all the way through.
Then I found this recipe! The banana bread is moist and delicious. It's also easy to make because your bread machine does all the stirring and baking.
This is another recipe that uses the cake or quick bread cycle of the bread machine. Wondering what a quick bread is? It's a bread recipe that doesn't use yeast as leavening. Instead, the bread uses baking powder or baking soda. (This recipe uses both.)
When I got my first bread machine. I wanted to use it to make cornbread. I was disappointed to see that the "recipe" in the instruction manual said to use a cornbread mix.
I experimented and found a real recipe for cornbread that works in the bread machine.
Note that this recipe uses the cake or quick bread cycle of the bread machine.
Here's an idea for a fast dinner using cornbread. It's an all-American spin on the British dish of beans on toast. Heat a can of baked beans on the stove. Add sliced kielbasa to the pan and stir. When everything is warm, serve over sliced cornbread. It's fast, filling and delicious!
My Favorite Bread Machine Recipes
In no particular order, here are my current top five bread machine recipes.
I make this bread about once a week. It's what we use for sandwiches and toast. It tastes great. It's easy to make. It's not fancy. It's just really, really good.
It's no wonder that my second-favorite bread recipe is a variant of my favorite bread recipe. This puts a holiday spin on sour milk bread. I love it . . . a lot!!
This is a recipe that The Man of the House makes us about once a month. Homemade pizza is wonderful!!
Again, this recipe is a variant of another recipe in my list of favorites. What happens if you take the pizza dough recipe and shape it into hamburger buns instead? Magic. My friends, magic is what happens. Try it and you'll see.
I am always amazed that such tasty bread can come from an ingredient that I so dislike. I'm not a fan of beer, but I adore beer bread.