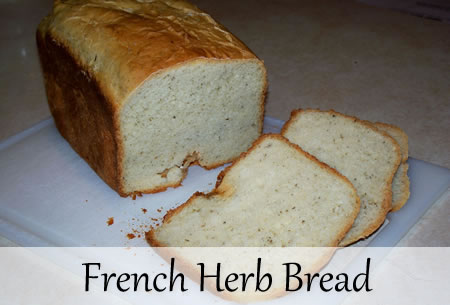 Last Updated on October 25, 2020
This recipe calls for Herbes de Provence. Not familiar with this fancy-sounding herb blend? It's a mixture of savory, fennel, basil, thyme, lavender flowers and other herbs. You'll probably be able to find it at your local grocery store.
French herb bread is yummy toasted and slathered with cream cheese. It's also great for sandwiches! We used the bread to make some great sandwiches with leftover pork roast.
French Herb Bread Recipe

This makes a two pound loaf. Use the basic or white setting with medium crust.
2/3 C. Water
3/4 C. Milk
1 Egg, beaten
4 C. Bread Flour
2/3 C. Potato Flakes
4 teaspoons Sugar
1 teaspoon Salt
3 Tablespoons Olive Oil
1 Tablespoon Herbes de Provence
1 1/4 teaspoons active dry yeast
This makes a two pound loaf. Follow the instructions that came with your bread machine in terms of which ingredients to put in the bread machine first.
Be sure to check on the dough after five or ten minutes of kneading. It should be a smooth, round ball. If the dough is too dry add liquid a teaspoon at a time until it looks right. If it looks too wet, add flour a tablespoon at a time.
I used the basic cycle.