Buttery Dinner Roll Recipe for the Bread Machine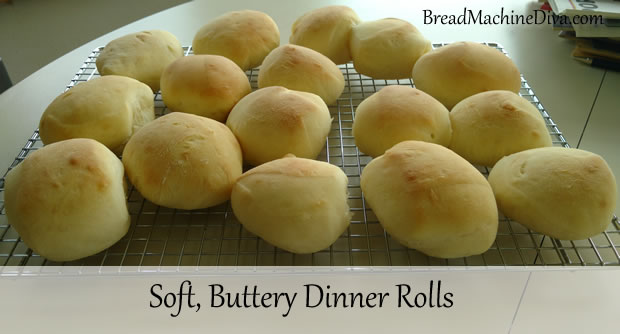 Last Updated on April 9, 2020
You should know that some of the links on this page are affiliate links. That means that If you click through and take action, I'll receive compensation. You can
read more about that here
.
These rolls are hit anytime, but they're especially great for holiday dinners. They're so soft and buttery. At our house, we call them butter buns. Yum!
Making Homemade Dinner Rolls
Note that this recipe is for a two-pound bread machine. It uses the dough setting.
Follow the instructions that came with your bread machine in terms of which ingredients to put in the machine first. I used the basic setting with a medium crust.
Check on the dough after five or ten minutes of kneading. Open top of the bread machine and look at how the dough is doing. It should be a smooth, round ball.
If the dough is too dry add liquid a teaspoon at a time until it looks right. If it looks too wet, add flour a tablespoon at a time until it looks right.
When the dough is done put it on a lightly floured surface and divide it in half. Then you'll keep dividing. The goal is to get 16 to 18 dinner rolls of appropriate size and shape.
Put the rolls on a greased cookie sheet. Cover the rolls with a clean, light-weight kitchen towel and let the rolls rise for half an hour.
Remove the towel and put the rolls in a 375 degree oven for 10 to 15 minutes.
Move the cooked rolls to a rack to cool.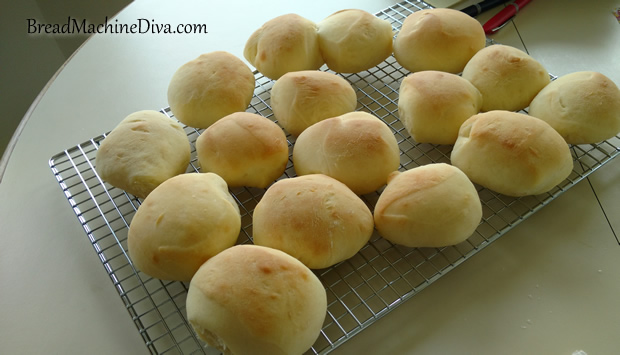 Buttery Dinner Roll Recipe
1 Cup water
1 Large egg
3 1/4 Cups bread flour
4 Tablespoons sugar
3 Tablespoons dry milk
1 teaspoon salt
1/4 Cup butter
1 1/2 teaspoons active dry yeast
Follow the instructions that came with your bread machine in terms of what ingredients to add first. (Missing your bread machine manual? I might be able to help.)
Use the dough setting of your bread machine.
Quick Dough Setting: If you're short on time you can replace the 1 1/2 teaspoons of active dry yeast with 2 teaspoons of rapid rise yeast. Be sure to use the quick dough setting along with the rapid rise yeast.