Last Updated on September 25, 2019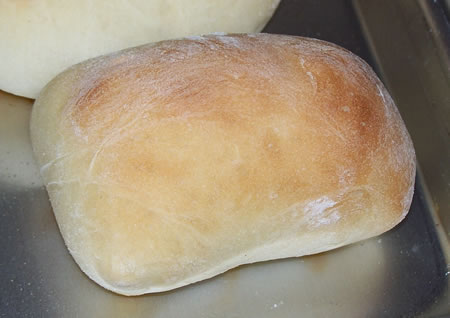 Last year I made pepperoni rolls for the first time. Now I don't know what I'd do without them!
I serve pepperoni rolls hot out of the oven for dinner. They go great with a hearty soup!
I wrap the leftovers in foil and put them in the freezer. Later I put the foil-wrapped package of rolls in the oven just like I would a frozen dinner. I'd love to say that I started with a preheated oven. I don't. I put them in a cold oven at 320 degrees for forty-five minutes. Your time may vary.
They're great for road trips and picnics. I thawed the frozen rolls in the refrigerator and then packed 'em up. They taste great at room temperature and are a quick, tidy snack.
So how do you make pepperoni rolls? It all starts out with a dough that's a little on the sweet side. I use a variant on my sour milk bread dough. The difference here is that I don't use sour milk.
Dough for Pepperoni Rolls – Two Pound Bread Machine

1 ½ cups milk
4 cups bread flour
1 ¼ teaspoon salt
4 Tablespoons sugar
1 ½ Tablespoons oil
1 ¾ teaspoons yeast
Follow the instructions that came with your bread machine in terms of which ingredients to put in the bread machine first. Use the dough setting.
Make sure you check on the dough after five or ten minutes of kneading. Just pop the top of the bread machine. The dough should be a smooth, round ball. If it's too dry add liquid a teaspoon at a time until it looks as expected. If it looks too wet, add flour a tablespoon at a time until it looks OK.
When the dough is done put it on a lightly floured board and divide it into 16 pieces of approximately equal size. Flatten each dough ball into a circle of about four inches in diameter. Then place 6 pepperoni slices in the middle. I usually lay them down three at a time in slightly overlapping rows.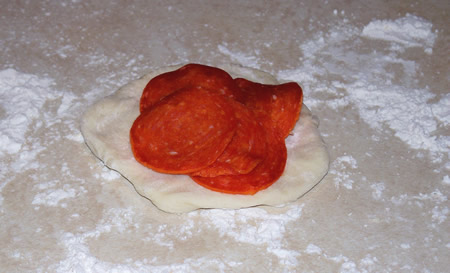 Then roll the dough around the pepperoni . . .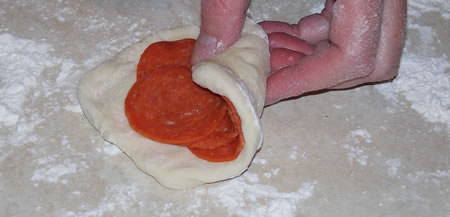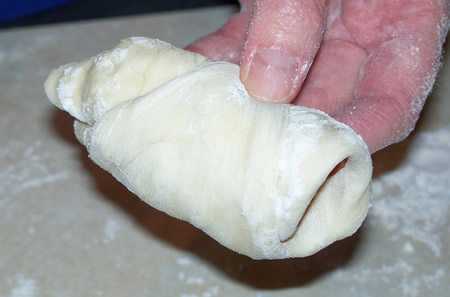 Pinch the edges closed. Place the roll seam side down on a greased cookie sheet. When you're done you'll have something that looks like the photo below. (I keep thinking that I'll find a better layout so that the two last rolls aren't over on the side by themselves. Let me know if you find a better way of placing the rolls.)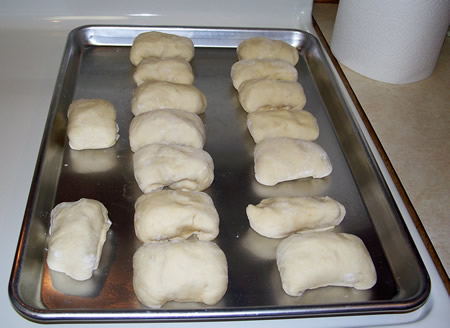 Cover the rolls with a clean, light-weight kitchen towel and let the rolls rise for half an hour. Then remove the towel and put the rolls in an oven preheated to 375 degrees for about 17 minutes.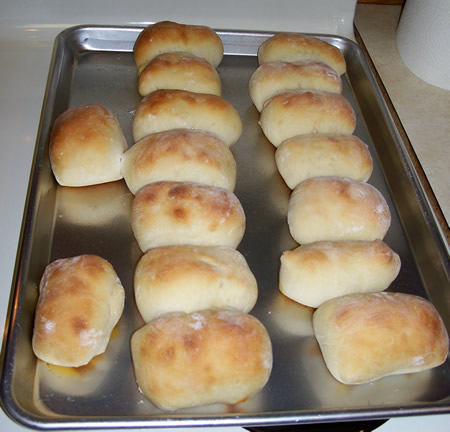 After you've made these once you'll find that these come together rather quickly. I always try to have a batch of them in the freezer for those nights when everyone is too tired to cook.