We love these for dinner. Imagine ham and sharp cheddar cheese coming together in a lovely warm dinner bun. It's as delicious as it sounds!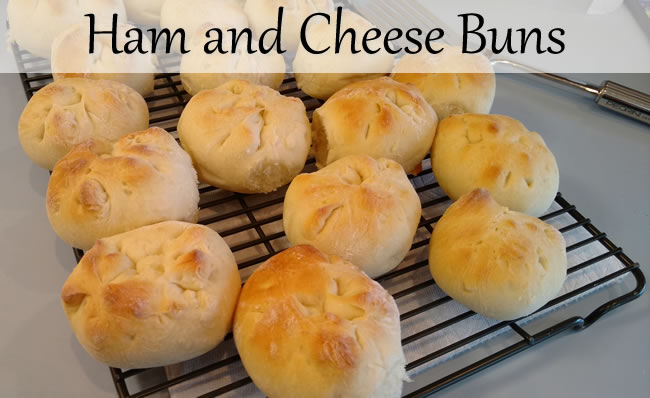 Last Updated on January 8, 2022 – Originally published November 22, 2017
Featured Comment
AWESOME. This was the best naturally partnered with tomato basil soup. But, this makes enough for leftovers and warms up just like fresh. Yum. ~ Beth
---
Easy to Make Ham and Cheese Buns
This recipe is a variation of my pepperoni rolls recipe. The dough is the same, but this time I'm putting leftover ham and some sharp cheddar cheese in the buns. The ham and cheese buns go great with soup or salad for dinner.
Dough for Ham and Cheese Buns – Two Pound Bread Machine
1 ½ cups milk
4 cups bread flour
1 ¼ teaspoon salt
4 Tablespoons sugar
1 ½ Tablespoons olive oil
1 ¾ teaspoons active dry yeast
leftover ham
sliced cheese – any kind will work, but we like sharp cheddar
Follow the instructions that came with your bread machine in terms of which ingredients to put in the bread machine first.
Use the dough setting.
Make sure you check on the dough after five or ten minutes of kneading. The dough should be a smooth, round ball. If it's too dry add liquid a teaspoon at a time until it looks as expected. If it looks too wet, add flour, a tablespoon at a time until it looks OK.
When the dough is done put it on a lightly floured board and divide it into 18 pieces of approximately equal size.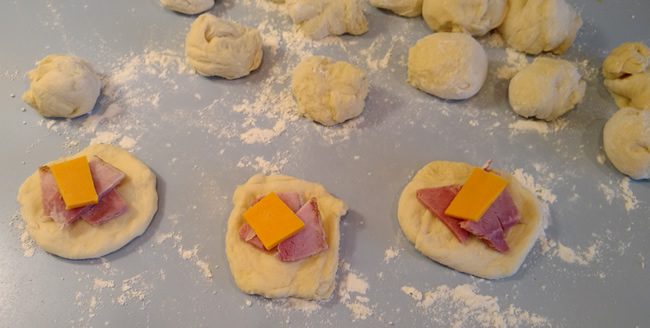 I like to do three rolls at a time. I flatten the dough balls into a circle. Then I add leftover ham and a little cheese. To form the buns, bring the dough from the sides up and around the meat and cheese to the top of the bun. (see below photo) Pinch it at the top to hold it in place.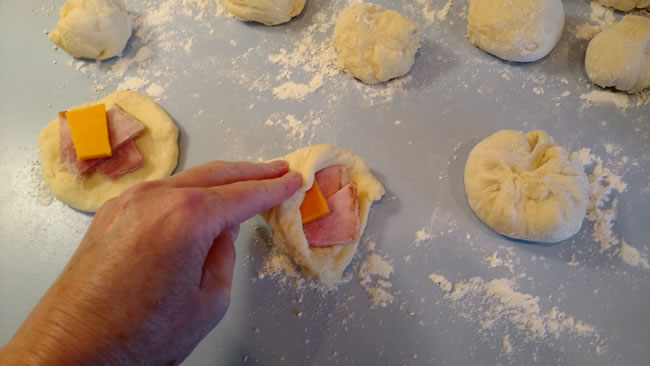 Place the rolls on a greased cookie sheet. Cover the rolls with a clean, light-weight kitchen towel and let the rolls rise for half an hour.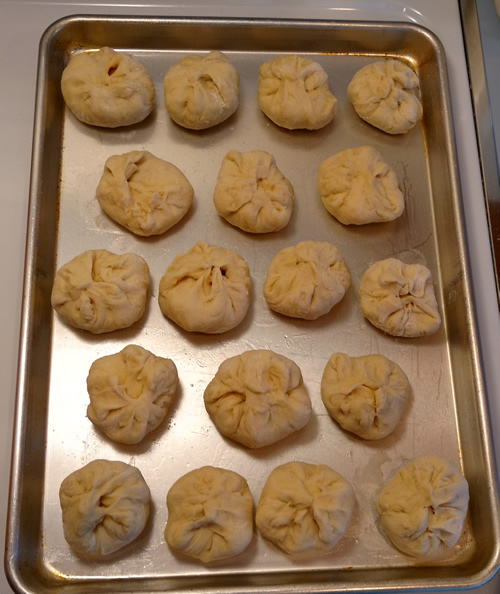 Then remove the towel and put the rolls in an oven preheated to 375 degrees for about 12 to 17 minutes.
I usually make enough rolls to have for dinner and one more meal. Wrap the leftovers in foil and put them in the freezer. When you're ready to eat them, put the foil-wrapped package of rolls in the oven just like a frozen dinner. I put them in a cold oven at 320 degrees for forty-five minutes.