Last Updated on September 25, 2019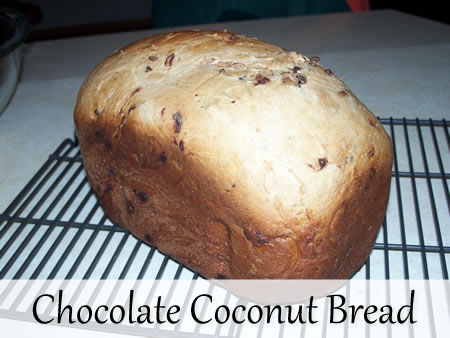 Chocolate plus coconut is a hard combination to beat! This bread is great for breakfast. I toast it and put peanut butter on top. Yum! If you like this you might also check out my other recipe for chocolate bread.
Chocolate Coconut Bread Recipe
1 Cup milk
3 Tablespoons water
1 Egg, lightly beaten
1 ½ teaspoons vanilla
4 teaspoons butter
3 Tablespoons sugar
1 teaspoon salt
4 Cups bread flour
1 ¼ teaspoons active dry yeast
½ Cup chocolate chips
½ Cup toasted coconut (more about this later)
This makes a two pound loaf. Use the basic white setting.
Follow the instructions that came with your bread machine in terms of which ingredients to put in the bread machine first. (My Zojirushi says to add the liquid ingredients first.)
Make sure you check on the dough after five or ten minutes of kneading. Just pop the top of the bread machine and see how the dough is doing. It should be a smooth, round ball. If it's too dry add liquid a teaspoon at a time until it looks OK. If it looks too wet, add flour a tablespoon at a time until it looks OK. Most of the time though, the above amounts should be just right.
Different people will have different results with this recipe. It all depends on how hot your bread machine gets. The chips may just slightly melt, they may entirely melt, or you could get some sort of mixture. I used mini chocolate chips for maximum melting. Plus, mini chocolate chips are very cute. 🙂 Here's how my bread turned out.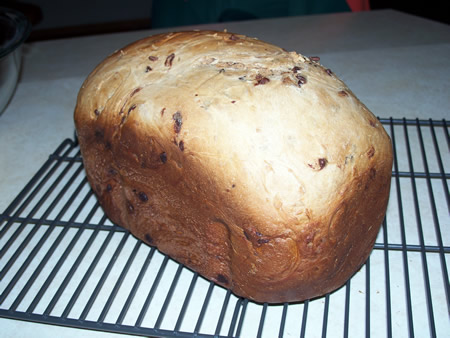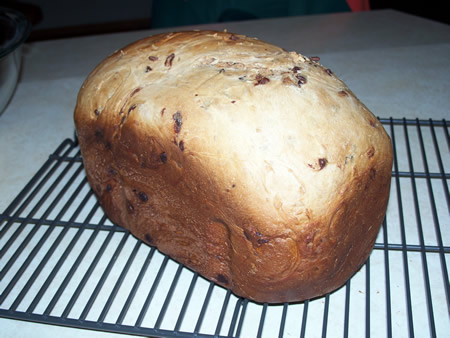 The bread is chocolate flavored with the occasional chocolate burst caused by an unmelted chip. The coconut is very subtle. The next time I make this recipe I'm going to double the coconut.
Toasting Coconut
This was the first time I toasted coconut. I preheated the oven to 300 degrees and spread the coconut out in a baking dish.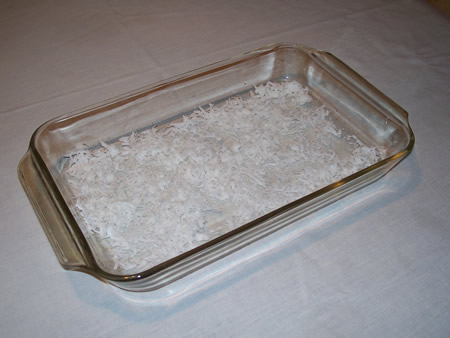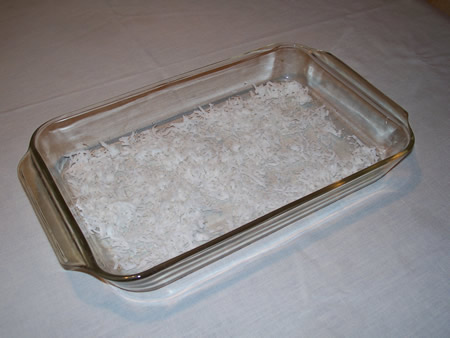 I cooked it for 20 minutes and stirred it every five minutes. Coconut can burn very quickly, so keep an eye on it. Here's how it looked after 20 minutes.