Italian Herb Bread Recipe
Last Updated on September 24, 2019
The Italian seasoning and Parmesan cheese make this bread smell and taste amazingly good. It's really soft and perfect for toasting thick slices in the oven to serve with soup or salads.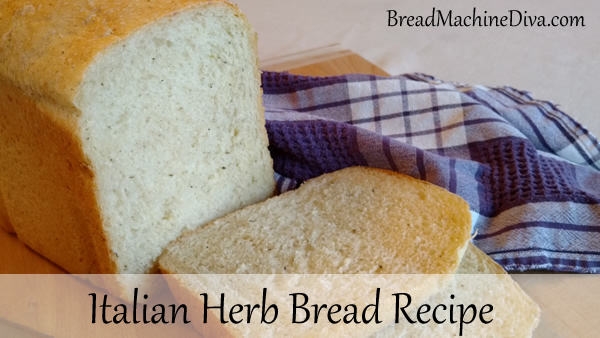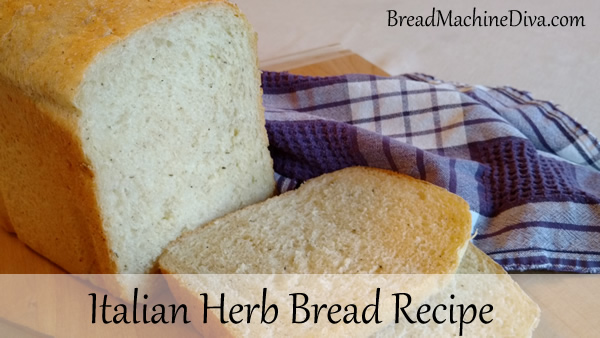 Italian Herb Bread – Two Pound Loaf
1 – 1/2 C. Water
4 cups Bread Flour
1 – 1/2 Tbsp. Sugar
1 – 1/2 Tbsp. Powdered Milk
1 – 1/2 tsp. Salt
2 Tbsp. Olive Oil
1/4 cup Grated Parmesan Cheese
2 – 1/2 tsp. Italian Seasoning
2 tsp active dry yeast
This makes a large two pound loaf. Follow the instructions that came with your bread machine in terms of which ingredients to put in the bread machine first. For my Zojirushi Bread Machine, the cheese should be added at the "add" beep. Based on past experience though, I added the cheese at the beginning along with the rest of the ingredients.
Check on the dough after five or ten minutes of kneading. It should be a smooth, round ball. If it's too dry add liquid a teaspoon at a time until it looks OK. If it looks too wet, add flour a tablespoon at a time until it looks as expected.
Keep an eye on this one when it's cooking. It makes a tall loaf of bread.