Five Tips for your Bread Machine's Delay Start Timer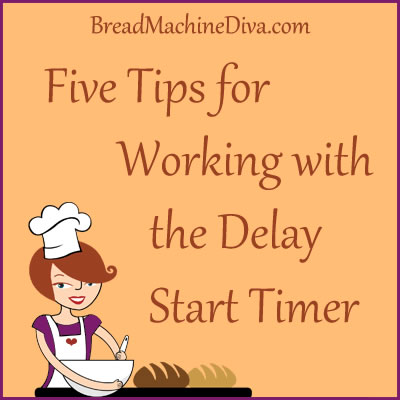 Last Updated on September 5, 2020
Before I get started, I want to let you know that some of the links on this page are affiliate links. That means that if you click through and take action, I'll receive compensation. You can
read more about that here
.
Most bread machines come with a delay start timer. This allows you to add bread ingredients to the pan and set a timer so that the bread machine comes on later.
Typically this is used overnight so that you can wake up to fresh bread. You can also set it up in the morning and have the machine bake bread during the day. You'll come home to a house that smells wonderful and part of dinner will already be ready.
I have a Zojirushi BB-PAC20 Virtuoso. One nice feature of that bread maker is that the add beep doesn't sound on the timed function. If you're using it overnight you don't need to worry about the beep waking you.
Another nice quality is that there's no math involved in setting the timer. The machine doesn't ask for the time you want it to start, it asks you when you want the bread to be done.
Five Tips for Using Your Bread Machine's Timed Function:
No matter what sort of bread machine you have here are some tips for using the time delay function.
Only use this for recipes that do NOT include milk, juice, fresh fruit, vegetables, eggs or other items that may spoil easily.
Don't use this if you're planning to use the add beep. To be honest though, I haven't had that much luck with the add beep. I usually add my ingredients at the start.
Use this with recipes that you've already tried. You'll want to know that you've got the dry to liquid ingredients ratio correct before using a recipe in this way.
Remember that you can't just take the loaf of bread out of the pan and eat it. You'll need to let it cool for 45 minutes to an hour before slicing it.
If your machine has a "keep warm" function you'll need to be there when the bread is done so you can remove it from the machine. Otherwise, you'll need to wait even longer before you can slice the loaf.
Bread Recipes for the Time Delay function:
Here are just some of the recipes that you can use for the time delay function.