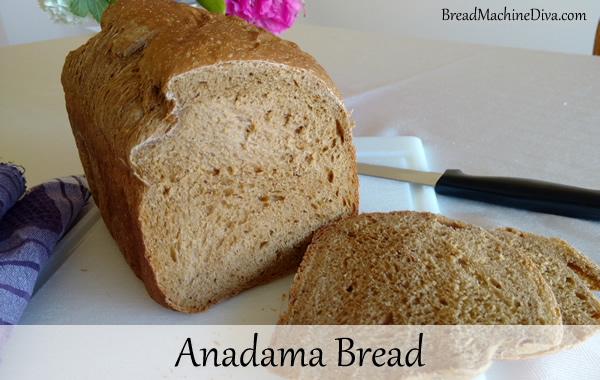 Last Updated on July 23, 2020
When I first saw this recipe, I was a little dubious. Molasses and cornmeal?
All doubts disappeared after tasting Anadama bread. It's a little sweet and the cornmeal gives it an interesting texture. Plus, I love its dark brown color.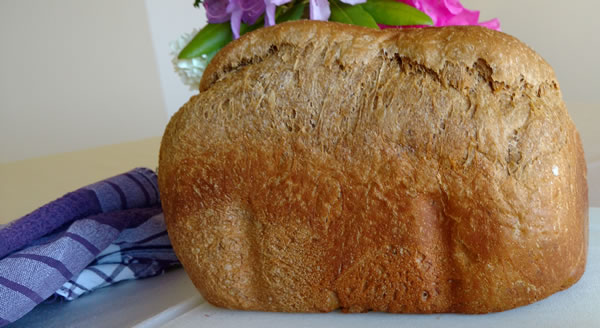 Wondering how the bread got its name?
Legend has it that in the early days of New England, a fisherman became frustrated with his wife's cooking.
The wife, named Anna, consistently made cornmeal porridge for supper. They at it all the time.
One day the husband decided that he couldn't take it anymore. In an attempt to get some variety, he added flour and yeast to the kettle of cornmeal porridge.
He mixed it all up and put it in the oven to bake. While it cooked he was heard to mutter, "Anna, damn her!"
And that is how Anadama Bread came to be.
How to Make Anadama Bread in the Bread Machine
I make the below recipe in my two-pound machine. Note that you'll be using the basic setting with medium crust.
Follow the instructions that came with your bread machine in terms of which ingredients to put in the bread machine first. With my machine (a Zojirushi Virtuoso Breadmaker
), I add the liquid first.
Check on the dough after five or ten minutes of kneading. Pop the top of the bread machine and look at the dough. It should be a smooth-ish, round ball.
If the dough is too dry add liquid a teaspoon at a time until it looks right. If it looks too wet, add flour a tablespoon at a time until it looks good.
Anadama Bread Recipe for the Bread Machine
Again, this recipe is for a two-pound machine. Use the basic setting with medium crust.
1 cup water
¼ cup molasses
3 cups bread flour
¼ cup cornmeal
1 teaspoon salt
2 tablespoons olive oil
1 teaspoon active dry yeast