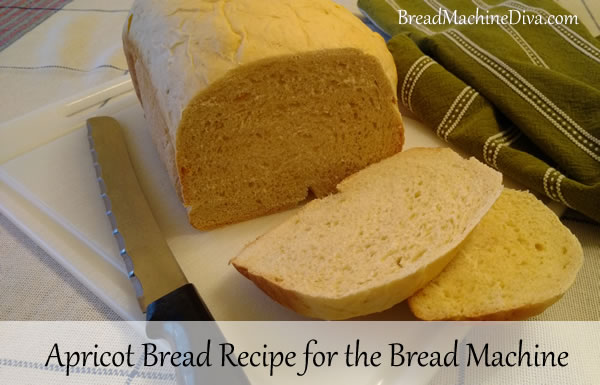 Last Updated on August 9, 2020
I love this bread! It's fruity and has an almost cake-like texture. It tastes fabulous toasted and covered in cream cheese.
Make sure to use the light crust setting with this recipe.
Thanks to Ivory Spring for this recipe.
Zesting
This recipe calls for lemon zest.
I found it's well worth it to get a proper zester. It saves you tons of time and trouble instead of trying to zest with a vegetable peeler.
Making Apricot Bread
This makes a two-pound loaf of bread. Use the basic setting with the light crust option.
Follow the instructions that came with your bread machine in terms of which ingredients to put in the machine first. With my Zo, I add the liquids first.
Because preserves can be a little tricky to measure I first added 1/2 cup of water into a 2-cup pyrex measuring cup. Then I scooped in the preserves until the level in the cup reached the 1-cup mark.
I also added the egg to the measuring cup and gave everything a good stir.
Continue adding ingredients to the bread pan.
Check the dough after five or ten minutes of kneading. This is especially important with this recipe because different preserves have different consistencies.
So pop the top of the bread machine and see how the dough is doing. It should be a smooth-ish, round ball. Here's how mine looked.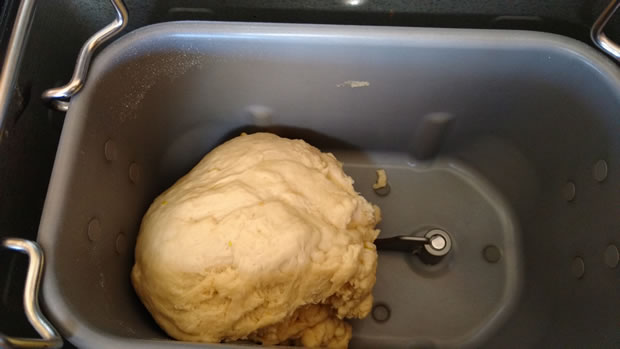 If the dough is too dry add liquid a teaspoon at a time until it looks right. If it looks too wet, add flour a tablespoon at a time until it looks right.
Note that the loaf of bread won't be as large as some others. It'll come out a little small as compared with other two-pound loaves.
If you like the recipe for Apricot Bread, check out this recipe for Raspberry Bread.
There's no getting around it. Raspberry bread is purple. AND it has orange flecks of zest. It's the kind of bread that you'd expect to find in a Dr. Seuss book. When you taste raspberry bread, none of that matters though. It's fruity and sweet and the texture is amazing. You'll love this
raspberry bread recipe.
Apricot Bread Recipe
Again, this makes a two-pound loaf of bread. Use the basic setting with the light crust option. The light crust setting is important and the bread comes out way too brown when I use the medium setting.
1/2 cup water
1/2 cup apricot preserves
1/4 cup butter
1 egg
1 teaspoon salt
1 teaspoon grated lemon peel
3 1/2 cups bread flour
2 1/4 teaspoons active dry yeast