Sandwich Bread Recipe – One Pound Loaf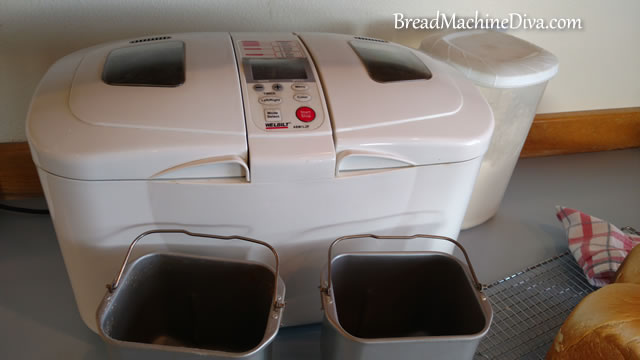 Last Updated on January 16, 2023 – Originally Published on November 8, 2020
My mother gave me her Welbilt dual loaf bread machine. Thanks, Mom!
I bought my beloved Zojirushi bread machine in late 2013. It's still going strong and has lasted longer than any other bread machine I've owned.
However, its age is making me a little nervous. What if it breaks? So I'd really like a backup bread machine. Since the virus hit, it's been increasingly hard to find a bread machine to buy. So I was thrilled to get this machine!
I'm not sure when this machine was made, but the manual is copyrighted in 2000.
Note that this Welbilt has two one-pound bread pans. I can make two different types of bread at once. I can even run different cycles on the different sides of the machine.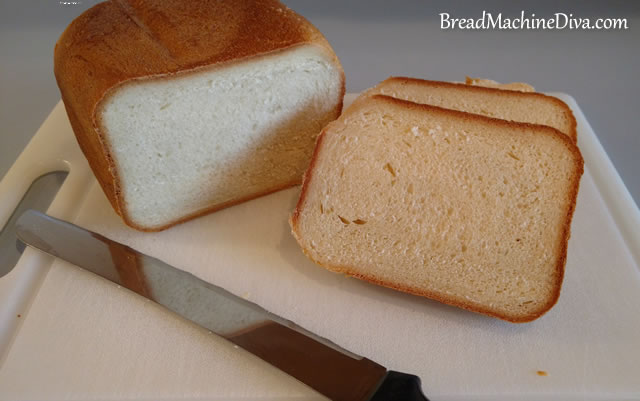 One thing that surprised me about working with a one-pound machine was just how cute the bread is.
It's the perfect size and shape for sandwiches. The bread's taste and texture are also great.
Too Much Sugar?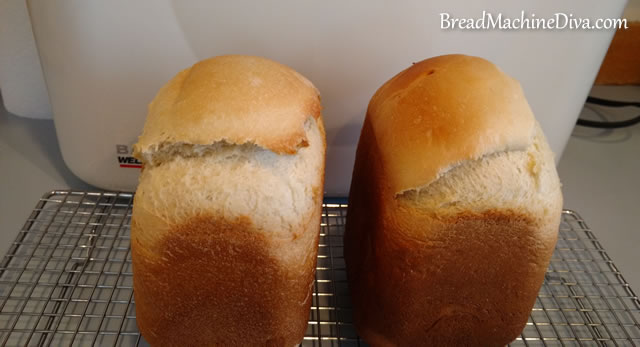 This is a pretty sugar-intensive recipe. It even blew the top off of the loaves of bread. See how the top looks like a badly fitting toupee?
I actually find the bread tops cute and the bread tastes great.
However, if you're trying to limit your sugar, you could adjust the recipe. In testing and developing this recipe, I made one loaf of bread that only had 4 teaspoons of sugar. I didn't think it tasted as good and the crust was very hard, but it was okay.
FAQ for This Recipe
Here are some questions that come up for this recipe and articles that should help.
Instructions
Note that the recipe is for a one-pound loaf. Use the basic setting and medium crust.
Follow the instructions that came with your bread machine in terms of which ingredients to put in the bread machine first.
Note that this recipe has measurements for either active dry yeast or instant yeast. Either one will work.
In fact, the loaf on the left in the above photo was made with 1 teaspoon of rapid rise (instant) yeast. The loaf on the right was made with 1 1/4 teaspoon active dry yeast.
You can see my article on using yeast in the bread machine if you have questions.
Check on the dough after five or ten minutes of kneading. Just pop the top of the bread machine and see how the dough is doing. It should be a smooth, round ball. If it's too dry add liquid a half teaspoon at a time until it looks OK. If it looks too wet, add flour a half tablespoon at a time until it looks OK.
Sandwich Bread Recipe – One Pound Loaf
Again, this recipe is for a one-pound loaf using the basic setting.
3/4 cup water
4 teaspoons olive oil
4 Tablespoons sugar
1 teaspoon salt
2 1/4 cups bread flour
1 1/4 teaspoons active dry yeast OR 1 teaspoon instant yeast