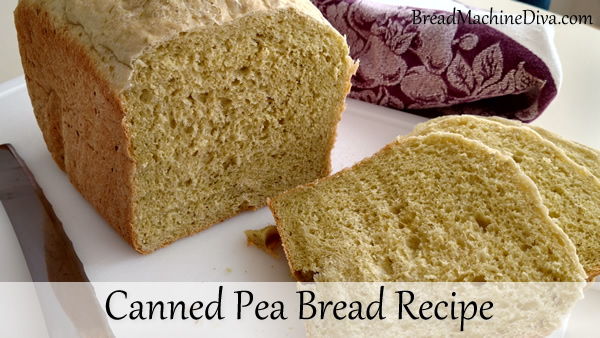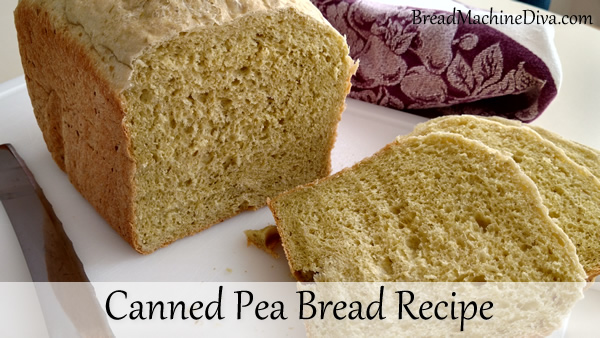 Last Updated on September 20, 2021
In 2017 I went to a family reunion. While I was there, Cousin Adair told me that you can make bread like potato bread, but using cooked or canned vegetables instead of potatoes.
It sounded too intriguing to pass up. I had to try it for myself. And you know what? Cousin Adair was totally right.
The bread is very similar to potato bread. It's moist and chewy while being sturdy enough for sandwiches. It's also very easy to make as you let the bread machine mash the peas. There is only the teeniest, tiniest taste of peas.
The loaf has an unusual looking crust. I suspect it has to do with the time it takes for the machine to mash the peas. In my opinion, the crust makes the bread look interesting and homemade.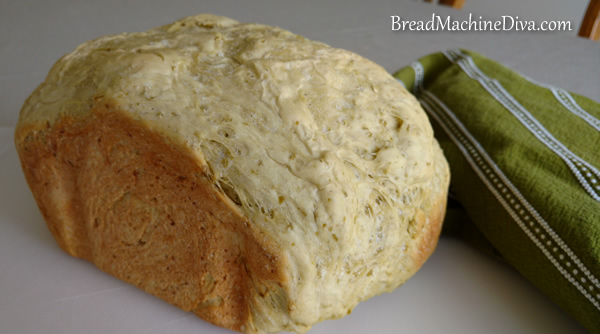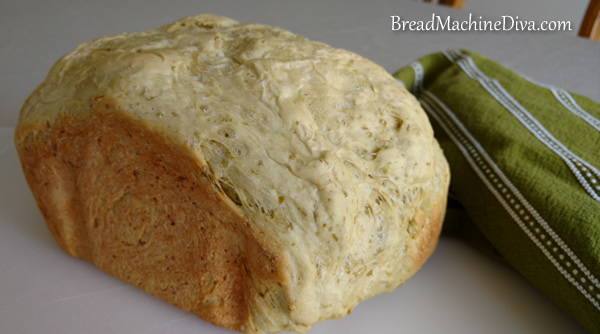 Instructions for Making Canned Pea Bread
This makes a two-pound loaf of bread. Use the basic setting with medium crust.
First of all, don't worry about mashing the peas. Let the bread machine do that for you.
Secondly, you're going for 1 3/4 cup of peas and water. Drain the canned peas and then add them to a two-cup Pyrex measuring cup. Then fill the cup with water to the 1 3/4 cup mark. The peas and water will be the liquid for your recipe.
I've had numerous people ask about draining the peas. Why? Isn't the liquid in the can the same as the water you'd add? Not necessarily. Many peas are canned with salt. I'm trying to make sure that you'll get a good rise by controlling the salt.
Follow the instructions that came with your bread machine in terms of which ingredients to put in the bread machine first. With my machine (a Zojirushi BB-PAC20 Virtuoso), I add the liquid first. So in this case the 1 3/4 cup of peas and water went into the machine first.
I used the basic bread setting and chose "medium" for the crust setting.
You know how I always tell you to check on the dough after five or ten minutes of kneading? With this recipe, it took longer than normal for the dough to become a smooth round ball.
Canned Pea Bread Recipe for the Bread Machine
Again, this makes a two-pound loaf of bread. Use the basic setting with medium crust.
2 tablespoons olive oil
1 1/2 tablespoons sugar
1 teaspoon salt
4 cups bread flour
1 (15 oz.) can sweet peas and enough water to make 1 3/4 cup – see the instructions
1 1/2 teaspoons active dry yeast