Bread Troubleshooting – Bread That Rises and Then Falls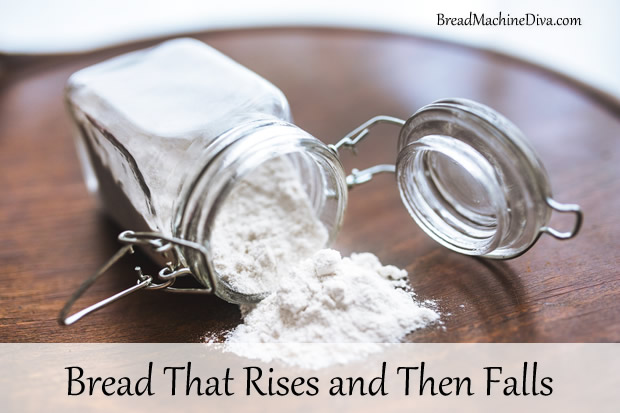 Last Updated on July 16, 2021 – Originally Posted in October 2011
Picture this, the bread machine signals that the bread is done. The bread smells great. You peeked in earlier and everything was going well. Then you open the lid and discover that the bread has fallen or collapsed.
Talk about disappointing!
I call this The Big Valley, because of the sunken area in the middle of the loaf. Sadly, it happens to all of us at one time or another.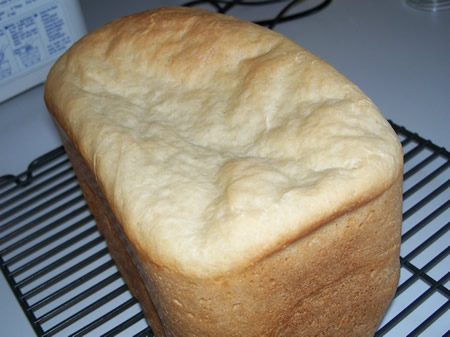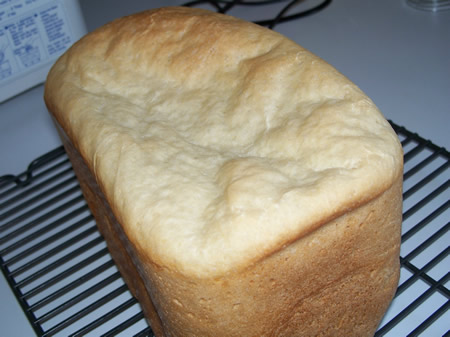 Here are some ideas about what may cause your bread to collapse as well as fixes.
While this website is about making bread with a bread machine, these tips and hints will work with any method of making bread.
Bread that Falls or Collapses Can Be Caused By:
Too much liquid – Try decreasing water or milk by one to two tablespoons. Remember to look at your dough after a few minutes of kneading and see if it's a smooth, round ball. If the dough is too dry add liquid a teaspoon at a time until the dough balls up. If it looks too wet, add flour a tablespoon at a time until it looks as expected.
Note that high humidity can add unwanted liquid to a recipe.
Not enough salt – Try increasing the salt by ¼ teaspoon.
Not enough flour – Try increasing the flour by one to two tablespoons.
Flour – The flour might have been old or not the right type. Check out this article on flour for more information about different types of flour.
Vital Wheat Gluten – Recipes with low-protein flours, like whole wheat or rye, typically call for the addition of vital wheat gluten. It improves the elasticity and rise of the dough. See my article on vital wheat gluten for more information about that.
Too much yeast—While it seems counterintuitive, too much yeast can actually cause your bread to collapse. The yeast will make the bread rise like crazy, but later it all falls in on itself. Try decreasing yeast by ¼ to ½ teaspoon.
Yeast Type or Condition – The yeast might have been old or might have been the wrong type for the setting. I've got an article on yeast that will help.
Water – It's rare, but sometimes your water could be the issue. Click through to read about what happened to me.
More Hints for Fixing the Problem
As a first step, try making the bread again.
Maybe you accidentally measured something wrong or forgot an ingredient. I've forgotten the yeast, the bread machine paddles and lost count of how many teaspoons of salt I've added.
Again, it's really important to look at the dough after a few minutes of kneading. Here's what it should look like:
If you made the recipe correctly, the next step is to try it again, making just one or two changes. Also, make notes about the changes. How did you vary the recipe? What was the result?
Use your revised recipe as the new baseline. Look at the result, look at the variables and try again if needed.
For example, maybe you adjusted the yeast and didn't notice enough of a change? No problem. On the next loaf make you can try an additional change to the yeast or maybe a change to the salt.
Bread That Doesn't Rise At All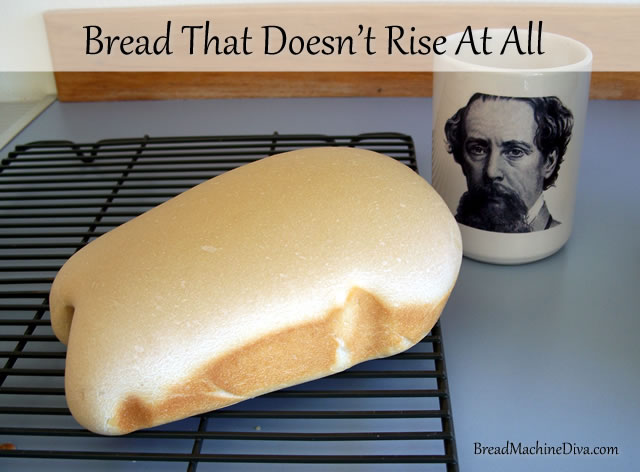 Here's a slightly different issue.
What if your bread doesn't rise at all? We're talking bread brick! As you can see, it's happened to me. I've got hints that will help.