Orange Raisin Brioche Recipe for the Bread Machine
Last Updated on February 14, 2023 – Originally posted January 10, 2015
Brioche, as you may know, is a type of yeast bread that originated in France. The eggs and butter in the bread make it rich and tender. In other words, this is some seriously delicious bread!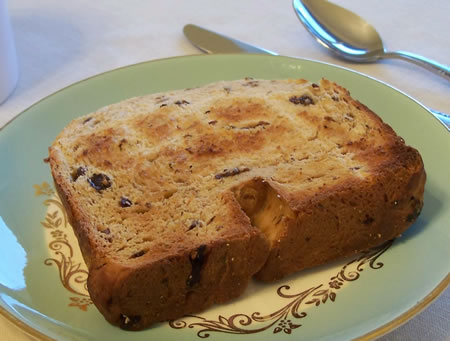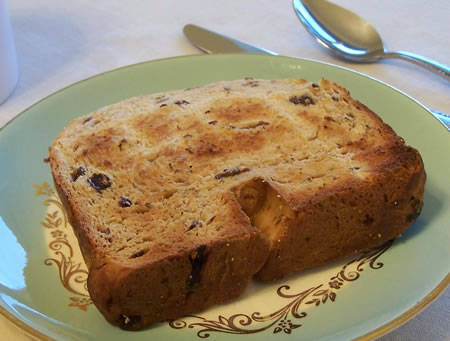 Orange Raisin Brioche Recipe for the Bread Machine
3 cups bread machine flour
2 1/2 teaspoons active dry yeast
1/2 cup butter (I used salted)
1/4 cup milk
1/4 cup water
2 tablespoons sugar
1/2 teaspoon salt
2 eggs, beaten
1 tablespoon orange zest
3/4 cup raisins
This makes a two-pound loaf. Follow the instructions that came with your bread machine in terms of which ingredients to put in the bread machine first. With my machine (a Zojirushi Virtuoso Breadmaker
), I add the liquid first.
Use the basic or white setting with medium crust.
Check on the dough after five or ten minutes of kneading. Just pop the top of the bread machine and see how the dough is doing. It should be a smooth, round ball. If it's too dry add liquid a teaspoon at a time until it looks OK. If it looks too wet, add flour a tablespoon at a time until it looks OK. Most of the time though, the above amounts should be just right.
On a side note, you'll notice that the photo shows a picture of the hole in the bread left by the paddle. For folks with vertical bread machines, the hole or indentation can be a serious problem. One of my friends with a single-paddle, vertical machine tells me that she just throws away that part of the loaf. With a two-paddle, horizontal machine the bread paddle holes aren't that big of a deal.