Egg Bread Recipe for the Bread Machine
Last Updated on September 19, 2019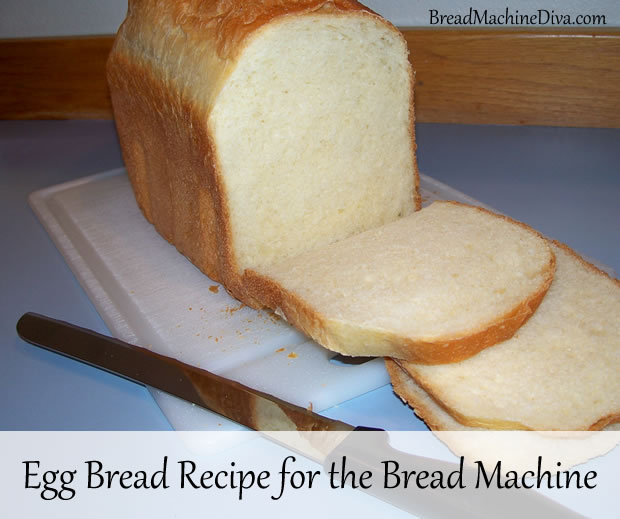 I had a few extra eggs in the refrigerator so I decided to give this recipe a try. I'm glad I did. The bread is a winner! The crust is soft and the top is flaky.
The bread is soft but has a solidity that makes it a natural for sandwiches. Your sandwich will not fall apart with this bread!
Raising Chickens
When I was a child we had chickens. It was a small flock of about 6 hens and a rooster.
I'd go out to the chicken coop to help gather the eggs and feed the chickens.
I remember how surprised I was when I gathered eggs for the first time and discovered that they were warm to the touch. It made sense. The eggs were warm because they'd been underneath a chicken. I'd just never experienced that before. I was used to eggs being cold from the refrigerator.
We also had a chicken that laid pretty, light-green eggs. Really! There are some breeds of chickens that lay colored eggs.
At the time I didn't appreciate those great, farm-fresh eggs. I just took them for granted.
The Man of the House and I talk about getting a few chickens, but we haven't decided to do it yet.
Egg Bread Recipe
1/3 cup water
3/4 cup milk
2 eggs beaten
4 cups bread flour
2 Tablespoons olive oil
3 Tablespoons sugar
1 teaspoon salt
1 1/4 teaspoons active dry yeast
This makes a two-pound loaf. Follow the instructions that came with your bread machine in terms of which ingredients to put in the bread machine first. With my machine (a Zojirushi BB-PAC20 Virtuoso), I add the liquid first. I used the basic bread setting and chose "medium" for the crust setting.
Check on the dough after five or ten minutes of kneading. Just pop the top of the bread machine and see how the dough is doing. It should be a smooth, round ball.