What is Vital Wheat Gluten?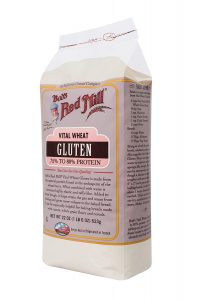 Do you have a wheat bread recipe that didn't turn out?  Maybe the problem is that the recipe doesn't contain vital wheat gluten.
Many wheat bread recipes call for vital wheat gluten. While vital wheat gluten looks like flour, it's not.  Instead, it's basically powered gluten.
So what's gluten? It's a type of protein found in flour.  It adds strength to flour and allows bread to rise.  Recipes with low-protein flours, like whole wheat or rye, typically call for the addition of vital wheat gluten. It improves the elasticity and rise of the dough.
The product is made by combining flour with water to make dough.  The dough is rinsed in water until the starch is removed and only the gluten remains.  Then the gluten is dried and ground.
I use vital wheat gluten in my rye bread recipe.