Sour Milk Bread – 1.5 Pound Loaf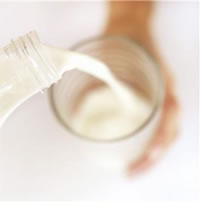 How can a recipe with such an unappetizing title turn out a bread that's so good?  I recently tried sour milk bread for the first time and was amazed at its taste and texture.  It's so good that it might replace sandwich bread as the bread that we have on hand for making toast and sandwiches.
Note that this bread doesn't have any oil.  That's not a typo.  There's no oil in this recipe.  I think the fat may come from the milk fat instead of oil or butter.  If anyone tries this recipe using fat free milk please leave a comment and let me know how it turns out.  I used 2% milk and the bread was great.
I'm going to experiment with this bread.   The below makes about a 1.5 pound loaf.  I'd like a recipe for 2 pounds.  What happens when regular (non sour) milk is used?  What happens if you use buttermilk?  I see variations aplenty with this one!
Sour Milk Bread in the Bread Machine

1 ⅛ cups sour milk
3 cups bread flour
1 teaspoon salt
3 tablespoons sugar
1 ½ teaspoons active dry yeast
Follow the instructions that came with your bread machine in terms of which ingredients to put in the bread machine first.  Make sure you check on the dough after five or ten  minutes of kneading.  Just pop the top of the bread machine and see how the dough is doing.  It should be a smooth, round ball.  If it's too dry add liquid a tablespoon at a time until it looks OK.  If it looks too wet,  add flour a tablespoon at a time until it looks OK.
Update:  I've made another version of this recipe that makes a two pound loaf of sour milk bread.