Cornbread in the Bread Machine
The Zojirushi bread machine has a handy dandy cake setting. In the machine's instruction manual it says that you can use the cake setting to make cornbread.  However, instead of giving a cornbread recipe it tells you to use a mix.  Yuck!  Part of why I make my own bread is so that I can control the ingredients.   So I decided to use my regular cornbread recipe in the bread machine.  I wasn't sure what would happen.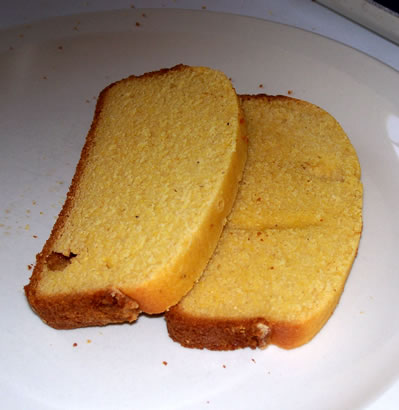 Cornbread happened.  It turned out great.  Here's what I did . . .
Cornbread Recipe for the Bread Machine
1 cup cornmeal
1 – 1/4 cup flour
4 teaspoons baking powder
1/4 cup sugar
1 teaspoon salt
1 teaspoon vanilla
2 eggs – lightly beaten
1 cup milk
1/4 cup melted butter or oil
Follow the instructions that came with your bread machine in terms of which ingredients to put in the machine first. Then select the cake setting with a light crust.  If your machine doesn't have a cake setting, use the quick bread setting.
We sliced the cornbread and froze what we didn't eat.  When we want a slice we just pop it in the toaster.  It thaws and heats the cornbread all at once.
12/15/16 Note:  I made this recipe in a 2pound machine.  However it also works in a 1.5 pound machine.