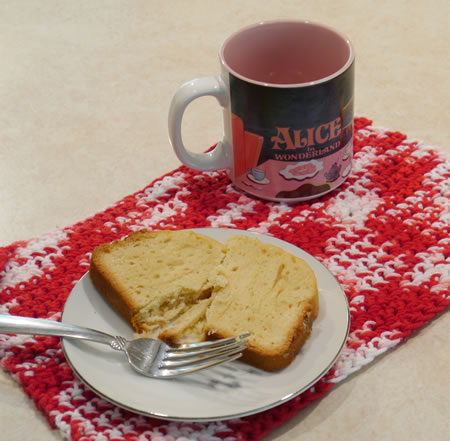 The Zojirushi bread machine has a cake setting. While I've used it to make cornbread, I hadn't used it to make a cake.  I found this recipe for pound cake and decided that needed to change!
Pound Cake
3 large eggs, beaten
1/3 Cup milk
2 Cups all purpose flour
3 tsp. baking powder
1/2 Cup butter, melted
1 Cup sugar
1 tsp. vanilla extract
Follow the instructions that came with your bread machine in terms of which ingredients to put in the machine first. Then select the cake setting.  I used the medium crust setting, but next time I'll try the light setting.
For those of you with machines featuring a "quick bread" cycle I think this recipe will work with that cycle too.  If anyone tries it can you please post a comment and let us all know how it turned out.
The cake was very good and I'll be making it again.  Incidentally, I froze the cake that we didn't eat and that worked great.
BTW – I made this with a two-pound machine.