Banana Bread Recipe for the Bread Machine

If your bread machine has a cake or quick bread function, you'll love this recipe. The banana bread is moist and delicious. It's also really easy to make because your bread machine does all the stirring and baking.
I've tried for ages to make banana bread in the bread machine. All the recipes I tried had the same problem. The bread never fully baked. When I finally figured out this recipe, I was so shocked and excited that I made it three times in a row to make sure I really had it right. Every loaf came out fully cooked as well as being really tasty.
Bread Machine Banana Bread Recipe
1 ½ cups bread flour
⅔ cup sugar
1 teaspoon baking powder
½ teaspoon baking soda
½ teaspoon salt
⅓ cup butter, melted
2 large eggs, lightly beaten
1 teaspoon vanilla
mashed banana – see note
milk – see note
This recipe is for a two pound machine. I used the cake and medium crust settings on my Zojirushi. Follow the instructions that came with your bread machine in terms of which ingredients to put in the machine first.
Note: Here's the key to success with this recipe. You're going to go for 2/3 cup of mashed banana and milk. Mash the banana and put it in a Pyrex measuring cup. Then fill the cup with milk to the 2/3 cup mark. If there's more banana, you'll add less milk. If there's less banana, you'll add more milk.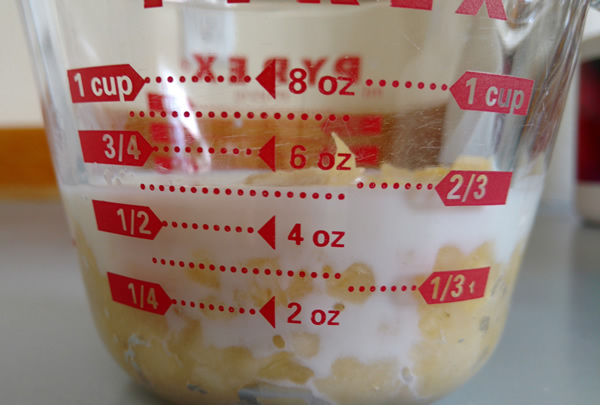 I also think that it's best to add the baking powder and baking soda on top of the flour. That way it gets worked into the batter more evenly.