Cheesy Garlic Bread with Hoagie Rolls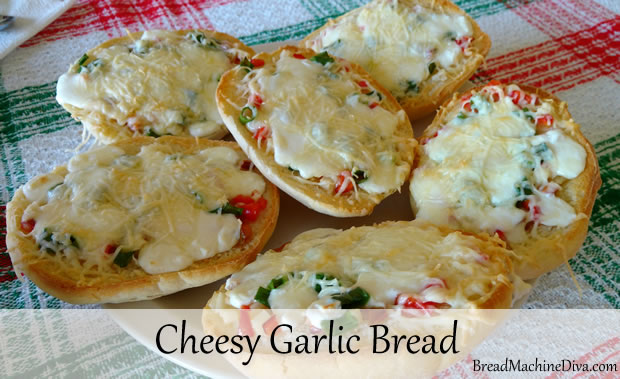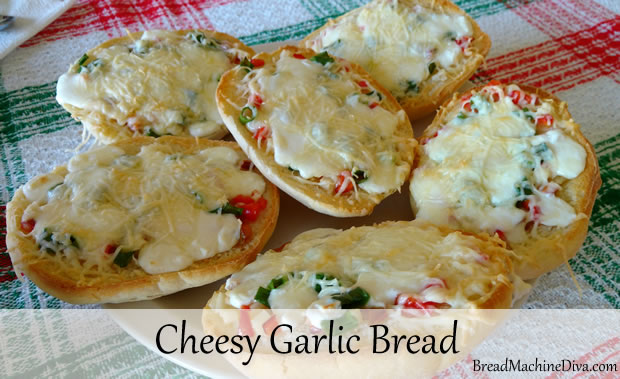 Last Updated on January 10, 2021 – Originally posted in September of 2017
The Man of the House (TMOTH) is a great cook. For example, one time he asked me to make him a batch of hoagie rolls. I thought he was going to use them for sandwiches. Imagine my surprise when I came to the table and saw cheesy garlic bread.
It was SO good!
He put this together from leftover pizza ingredients. The recipe is short on exact amounts, but shows how handy these hoagie rolls are.
Cheesy Garlic Bread Recipe
A few hours before dinner TMOTH diced some garlic, green peppers and red peppers. He added the diced veggies to olive oil and put everything in the refrigerator until he was ready to make the garlic bread. (As an aside, putting diced garlic in oil is NOT a safe way to preserve it. It's okay for a few hours though.)
Closer to dinner, TMOTH sliced 3 hoagie rolls in half and put them on a cookie sheet, cut side up. Then he added the veggies that had been soaking in olive oil. Next he added some chopped green onions. He finished the garlic bread off with chopped mozzarella and grated Parmesan cheese.
TMOTH baked these in the oven at 225 for 20 minutes. Then he broiled them for 2 minutes to melt the cheese.