Last Updated on September 24, 2019
Recently The Man of the House (TMOTH) asked if I could make hoagie rolls. I didn't have a recipe, but I told him I'd check it out. I found and adapted Pammy's Hoagies recipe. Now we've got hoagie rolls!
These beauties are so soft. They're perfect for sandwiches.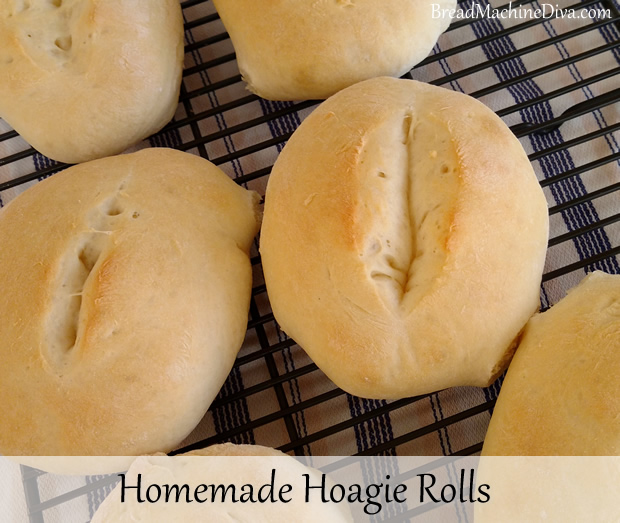 Hoagie Rolls Recipe for Bread Machine
1 cup water
2 ¾ cups bread flour
2 teaspoons sugar
4 teaspoons olive oil
1 teaspoon salt
2 ¼ teaspoons active dry yeast
I make this recipe in my two-pound machine. It makes six hoagie rolls.
Follow the instructions that came with your bread machine (I have a Zojirushi BB-PAC20 Virtuoso Breadmaker) in terms of which ingredients to put in the bread machine first. You'll be using the dough setting.
Check on the dough after five or ten minutes of kneading. You should see a smooth, round ball. If it's too dry add liquid a teaspoon at a time until it looks as expected. If it looks too wet, add flour a tablespoon at a time until it looks like it should.
When the dough is done put it on a lightly floured board and divide into two equal sections. Then divide each of the two sections into three pieces. The goal is to get 6 balls of dough about the same size.
Form the balls of dough into elongated ovals and place those on a greased cookie sheet.
Score or cut the rolls. The official tool for this is a lame, but I just use my bread knife.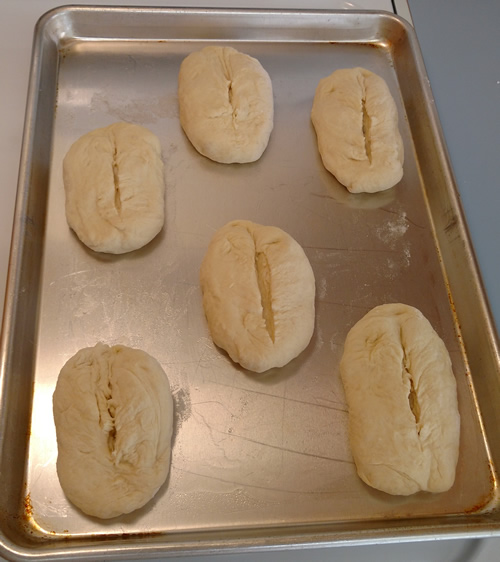 Cover the rolls with a clean, light-weight kitchen towel and let the dough rise for half an hour. Bake for 10 to 15 minutes in an oven preheated to 400 degrees. The rolls should be lightly browned.