Buttermilk Oatmeal Bread Recipe
The first time I tried to make buttermilk oatmeal bread, the loaf was way too tall.
I adjusted the recipe and tried again. That time the loaf was too little. (It was a hippo-shaped loaf that was big on one end and small on the other.)
I tweaked the recipe again. The third time was the charm!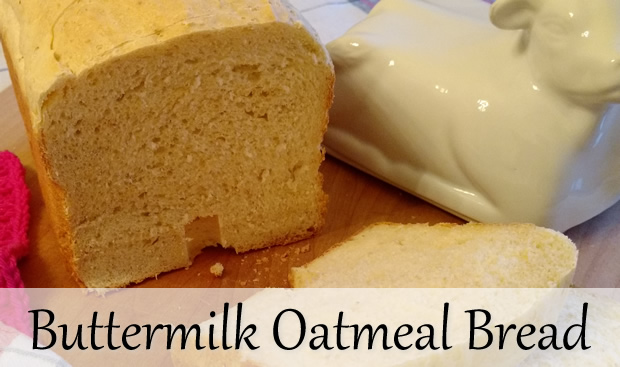 Buttermilk Oatmeal bread is very soft.  As you eat it, you'll notice a slight buttermilk tang.  The oatmeal gives it some nice substance.
Buttermilk Oatmeal Bread – Two Pound Loaf

1 cup buttermilk
½ cup water
4 cups bread flour
½ cup old-fashioned oats
1 ½ teaspoon salt
3 Tablespoons sugar
1 Tablespoons olive oil
2 teaspoons active dry yeast
Follow the instructions that came with your bread machine in terms of which ingredients to put in the bread machine first.  I use the basic setting with medium crust. Make sure you check on the dough after five or ten minutes of kneading.  It should be a smooth, round ball.