Last Updated on September 25, 2019
I adore dark rye bread. However, up until now, I didn't have a recipe for it. I experimented with one I found in The Bread Lover's Bread Machine Cookbook and came up with the below.
The bread is hearty and has a nice rye flavor. The Man of The House uses it to make great corned beef sandwiches. It also goes well with soup or stews.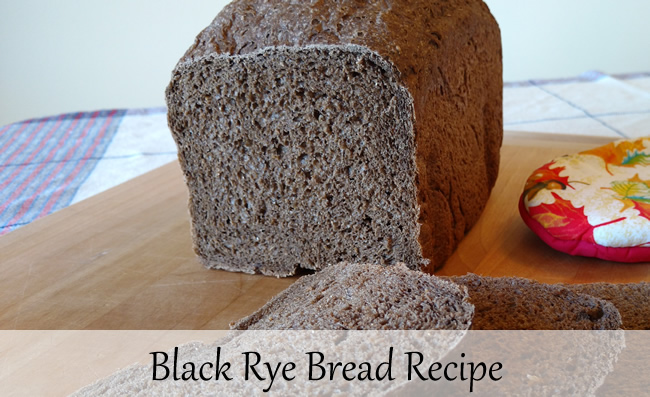 Black Rye Bread Recipe
1 ½ cups water
¼ cup olive oil
2 Tablespoons molasses
2 ⅓ cups white bread flour
1 ⅓ cups dark rye flour
⅓ cup wheat bran
3 Tablespoons unsweetened, Dutch-process, cocoa powder (I happened to have dark cocoa powder on hand, but regular will work too. )
4 teaspoons vital wheat gluten
2 teaspoons instant espresso powder
2 teaspoons caraway seeds
2 teaspoons salt
2 ½ teaspoons active dry yeast
This makes a two-pound loaf of bread.
Follow the instructions that came with your bread machine in terms of which ingredients to put in the machine first. I used the basic setting with medium crust.
Make sure you check on the dough after five or ten minutes of kneading. Just pop the top of the bread machine and see how the dough is doing. It should be a smooth, round ball. If it's too dry add liquid a teaspoon at a time until it looks right. If it looks too wet, add flour a tablespoon at a time until it looks right.