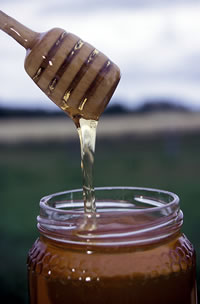 I found this recipe for honey bread in a Zojirushi bread manual.  If you lost your the booklet that came with your bread machine, check out this handy page with manuals for almost all of their bread machines.
The bread is soft and has a great flavor.  What surprised me about it is that it isn't sweet.  It's just a great loaf of bread that you can make from ingredients you probably have in your kitchen right now.
Honey Bread Recipe
1 ¼ cup water
¼ cup honey
4 ¼ cups bread flour
2 ½ Tablespoons butter
2 teaspoons salt
2 ½ teaspoons active dry yeast
This makes a two pound loaf. Follow the instructions that came with your bread machine in terms of which ingredients to put in the bread machine first. With my machine (a Zojirushi Virtuoso Breadmaker
), I add the liquid first. I found it helped to put the correct amount of water in a two-cup measure and then add the honey into the same cup. I stirred the honey/water mixture to blend them.  I wanted to make sure to use all of that yummy honey and not leave any on the side of the measuring cup!
Check on the dough after five or ten minutes of kneading.  Just pop the top of the bread machine and see how the dough is doing.  It should be a smooth, round ball.  If it's too dry add liquid a tablespoon at a time until it looks OK.  If it looks too wet, add flour a tablespoon at a time until it looks OK.  Most of the time though, the above amounts should be just right.
Note:  Several readers have reported that they needed to add a little more water to this recipe.