Hamburger Buns With the Bread Machine
When we have hamburgers The Man of the House is in charge of cooking the meat. My part of the proceedings is to make the buns.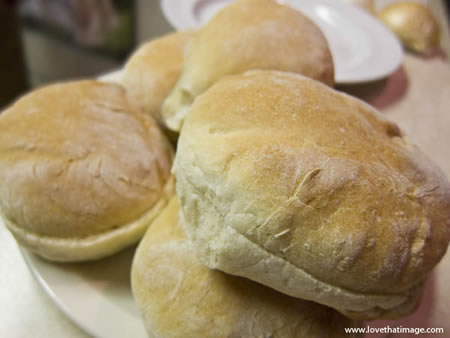 (This summer our friends Rick and Sara joined us for hamburgers. Sara is the creative force behind LoveThatImage.com. She took this fabulous shot of the hamburger buns.)
I've been making our hamburger buns for years now. They always taste great. I also appreciate the fact that they're not mushy or squishy. These buns will not fall apart as you eat them.
The only problem I've had is with the sizing. I recently figured out the trick. Divide the dough into nine pieces and make nine hamburger buns. I'd always made eight buns in the past. But once I started using this recipe to make nine buns, all my sizing troubles disappeared.
Hamburger Buns for Two Pound Bread Machine
1 – 1/2 Cups water
1 – 1/2 Tablespoons olive oil
3 – 3/4 Cups bread flour
1 – 1/2 Tablespoons sugar
1 – 1/2 teaspoons salt
1 – 1/2 teaspoons active dry yeast
12/12/17 Note: When I updated to my current Zo, I found that the hamburger buns turn out better with a slightly different recipe. Here's what I'm using now. Use the one that works best for you.

1 ¼ Cups water
1 ½ Tablespoons olive oil
3 ¾ Cups bread flour
1 ½ Tablespoons sugar
1 teaspoons salt
2 teaspoons rapid rise yeast when using the quick cycle OR 1 ½ teaspoons active dry yeast yeast when using the regular dough cycle
Follow the instructions that came with your bread machine in terms of which ingredients to put in the bread machine first. (For my machine, I add the liquids first.) Use the dough setting.
When the dough is done put it on a lightly floured board and divide into three equal sections. The goal is to get 9 hamburger buns of appropriate size and shape. When you've got the buns the right size and shape put them on a greased cookie sheet. Remember not to put them too close together as they'll get larger as they cook.
Cover the buns with a clean, lightweight kitchen towel and let the buns rise for half an hour. Then remove the towel and put the buns in a 400 degree oven for 10 to 15 minutes. (Note: baking time decreased slightly on 5/28/18)
Move the cooked buns to a rack to cool. (I need to get a new photo. This is from my 8 buns to a batch days.)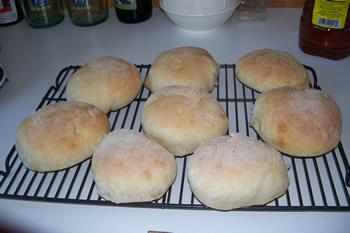 Enjoy your hamburgers!