Hamburger Buns in the Bread Machine
Check out the updated version of making hamburger buns in the bread machine.
On Labor Day the Man of the House is going to fire up the grill and we're going to have some lovely hamburgers. My part of the proceedings will be to make the hamburger buns.
It's really pretty easy.  For me the most difficult part is making the buns the right size.  Mine tend to be a bit large, but over time I'm getting the hang of it.
Hamburger Buns
1 – 1/2 Cups water
1 – 1/2 Tablespoons olive oil
3 – 3/4 Cups bread flour
1 – 1/2 Tablespoons sugar
1 – 1/2 teaspoons salt
1 – 1/2 teaspoons active bread yeast
Use the dough setting of your Zojirushi Bread Machine. When the dough is done put it on a lightly floured board and divide in half. The goal is to get 7 to 8 hamburger buns of appropriate size and shape. When you've got the buns the right size and shape put them on a greased cookie sheet. Remember not to put them too close together as they'll get larger as they cook.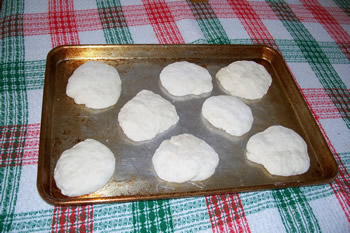 Cover the buns with a clean, light-weight kitchen towel and let the buns rise for half an hour. Then remove the towel and put the buns in a 400 degree oven for 15 to 20 minutes.
Move the cooked buns to a rack to cool.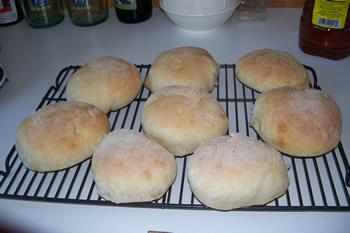 Some store-bought buns get mushy and fall apart when you've added the burger and the condiments. These buns will hold everything in place and are still nice and soft.
I hope everyone has a great Labor Day!