At our house we like things a little on the spicy side.  So when I saw the savory cheddar cheese bread recipe at King Arthur Flour I knew I had to make a few changes to make it a good fit at our house.  The result is Pepper Jack Cheese Bread and I hope you like it.
Pepper Jack Cheese Bread in the Bread Machine
1 cup milk
3 cups bread flour
1 1/4 teaspoons salt
1 tablespoon sugar
1 cup grated Pepper Jack cheese firmly packed
1/4 cup King Arthur Flour Vermont cheese powder or grated Parmesan cheese,
1 1/2 teaspoons yeast
1/2 to 1 teaspoon Tabasco sauce (optional)
This makes a 2 pound loaf.
Follow the instructions that came with your bread machine in terms of which ingredients to put in the bread machine first.
Make sure you check on the dough after five or ten minutes of kneading.  Pop open the top of the bread machine and see how the dough is doing.  It should be a round ball.  If it's too dry add milk a tablespoon at a time until the dough balls up.  If it looks too wet,  add flour a tablespoon at a time until it looks as expected.
Here's how the bread looked as it came out of the bread machine: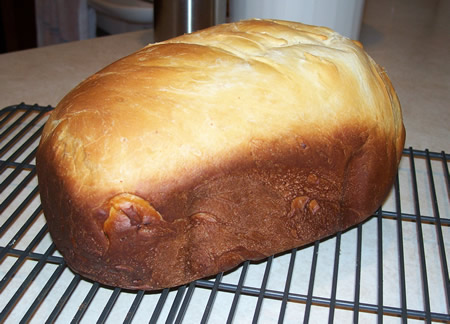 And here's how it looked as it was being sliced: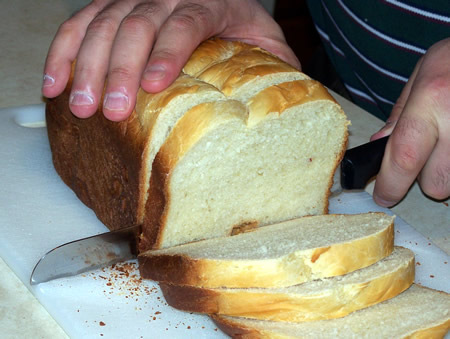 We used the bread in sandwiches.  It added a hint of cheesy flavor without being overwhelming.  The crust was especially tasty.