Dinner Rolls with Rapid Rise Yeast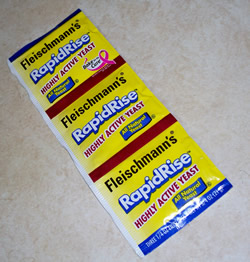 This is one of my favorite recipes.  I use it to make hamburger buns as well as pizza dough. It's especially handy when combined with rapid rise yeast!
What's the difference between rapid rise yeast and regular yeast?  The rapid rise yeast is more finely ground.  It absorbs moisture faster and kick-starts the whole process of converting starch and sugar into carbon dioxide.  The carbon dioxide forms tiny bubbles that make the dough expand and stretch.
In my Zojirushi the dough cycle with regular yeast is one hour and fifty minutes.  The rapid rise cycle is only forty five minutes.  That's quite a time savings!
Dinner Roll Dough
1 1/2 Cups water
1 1/2 Tablespoons olive oil
3 3/4 Cups bread flour
1 1/2 Tablespoons sugar
1 1/2 teaspoons salt
2 teaspoons rapid rise yeast  
(Want to use the regular dough cycle for this recipe?  No worries.  Use 1 1/2 teaspoons active dry yeast yeast instead.)
12/12/17 Note: When I updated to my current Zo, I found that the dinner rolls turn out better with a slightly different recipe.  Here's what I'm using now. Use the one that works best for you.

1 ¼ Cups water
1 ½ Tablespoons olive oil
3 ¾ Cups bread flour
1 ½ Tablespoons sugar
1 teaspoons salt
2 teaspoons rapid rise yeast when using the quick cycle OR 1 ½ teaspoons active dry yeast yeast when using the regular dough cycle
Follow the instructions that came with your bread machine in terms of what ingredients to add first.  Use the quick dough setting of your bread machine.
When the dough is done put it on a lightly floured board and divide in half. The goal is to get 18 to 20 dinner rolls of appropriate size and shape. When you've got the rolls the right size and shape put them on a greased cookie sheet. Remember not to put them too close together as they'll get larger as they cook.
Cover the rolls with a clean, light-weight kitchen towel and let the rolls rise for half an hour. Then remove the towel and put the rolls in a 400 degree oven for 15 to 20 minutes.
Move the cooked rolls to a rack to cool.