Costco Stops Carrying Bread Flour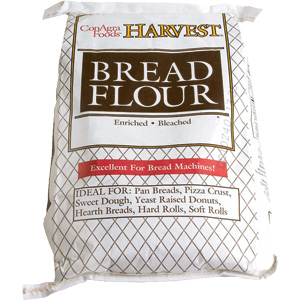 For the last few years we've got our bread flour from Costco. I make all our bread, buns and rolls so we go through a fifty pound bag of flour every two to three months. The flour cost about $18. However Costco has stopped carrying bread flour. They still have large bags of all-purpose flour, but no more bread flour.
So what's the difference between bread flour and all-purpose flour? Protein. In general, all-purpose flour has a protein content of 9% to 12%. Bread flour typically has a protein range of 10% to 13%. Note the overlapping areas. If you're using an all-purpose flour that does well in the bread machine it may be in the upper range of the protein amount. So your flour will be good for making bread, but you may have problems when you use the flour for cookies or cake.
But back to the point of this post, I need a new source of bread flour. I looked in the grocery stores and bread flour seems to be going for $3.50 for a five-pound bag. That's almost double the cost of what I've been paying at Costco!
In the short term, I found a sale on bread flour at Albertson's. (I think the sale ends tomorrow or the day after.) They're offering five-pound bags of bread flour for just $2.50. I got six.
For the long term, I've done some research and Cash&Carry has fifty pound bags of Morbread flour for about $18. I emailed Grain Craft, the company that makes the flour, and they say it's 12% so it should work well.
I'll be sure to post about my experiences with Morbread as soon as I've tried it.  In the meantime, I'd be interested to hear about your experiences with it.  Just leave a comment.  I'd also love to hear if you've found another place to buy bread flour in bulk.
Update – I called Costco Member Services today (4/28/15) to see what they had to say.  I was told that the bread flour is in "pending delete" status.  That seems to mean that they're selling off their existing inventory with no intention of restocking at this point.