Bread Flour Versus All-Purpose Flour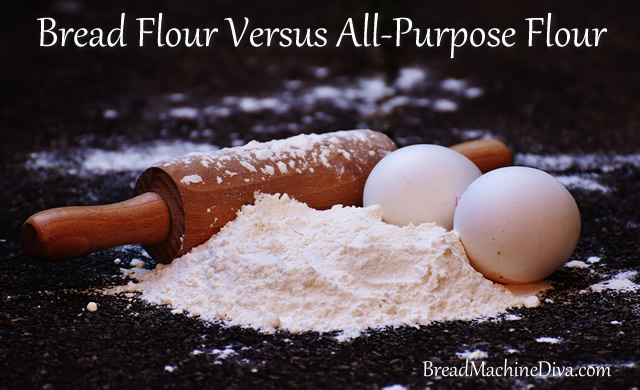 Many people use all-purpose flour in bread making instead of bread flour. I started wondering what the difference is. It turns out that the difference is gluten.
Gluten is a type of protein found in flour.
More gluten in the flour makes the bread slightly heavier, but more importantly, it makes it stronger. That means that as the yeast ferments the bread will hold the carbon dioxide and rise.
If the dough isn't strong then the carbon dioxide will escape and the bread won't rise as high.
Bread flour has more gluten than all-purpose flour. However, the amount of gluten in particular brands of flour varies.
In general, all-purpose flour has a gluten content of 9% to 12%. Bread flour typically has a gluten range of 10% to 13%. Note the overlapping areas.
If you're using all-purpose flour in your bread machine and it works for you, that's great. It may be that your brand of flour is in the upper range of the gluten levels.
Wondering about other types of flour?
Cake Flour has the lowest gluten content of all. Its gluten content is in the 5% to 8% range. Cake flour is generally bleached. The bleaching slightly damages the flour's starches as well as weakening the gluten. This enables the flour to absorb more liquid and rise higher.
Pastry Flour is sometimes called cookie flour. It has a gluten content of 8% to 9%. It's frequently used for pies, tarts and many cookies.
You can make your own pastry flour by mixing together 1 1/3 cups all-purpose flour with 2/3 cup cake flour.
Self-Rising Flour contains baking powder and salt. This staple of Southern cooking is used for biscuits, muffins, and pancakes.
You can make your own self-rising flour by combining 1 cup all-purpose flour with 1 1/2 teaspoons baking powder and 1/4 teaspoon salt.
Whole-Wheat Flour is called wholemeal flour in the UK. It's made from the whole kernel of wheat.
Whole-wheat flours are high in protein but have problems forming gluten. That's why many recipes for whole-wheat bread call for the addition of vital wheat gluten.
Gluten-Free Flour isn't made from wheat. There are many types of gluten-free flour. some of the most popular are almond flour, buckwheat flour, and sorghum flour.
Since bread depends on gluten, making bread with gluten-free flours is a challenge. It's a whole different type of baked good.