Sally Lunn Bread Machine Mix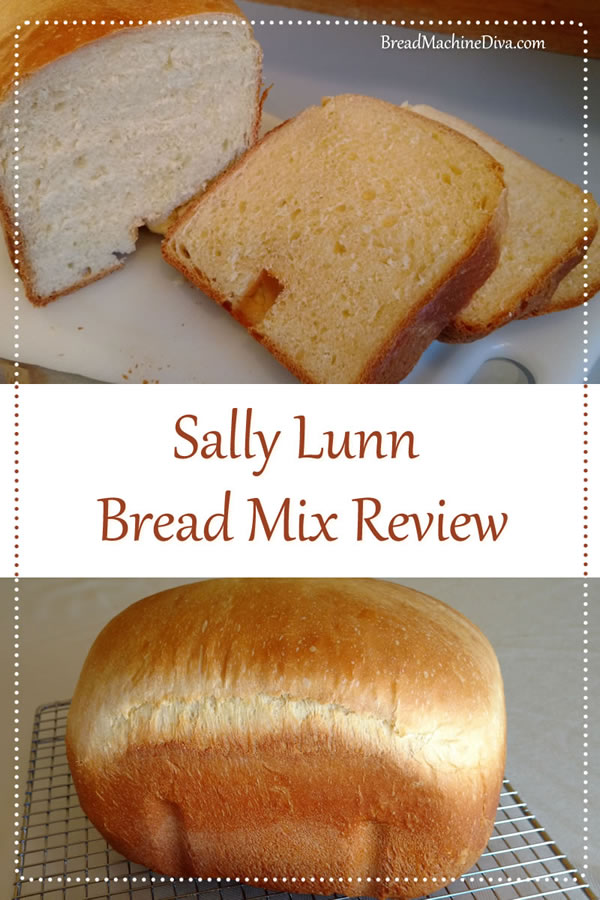 Updated April 23, 2022 – Originally Published on April 10, 2021
I like to try bread machine mixes from time to time. Why? My favorite bread mix, the Black Russian bread mix, inspired me to develop a black rye bread recipe.
And despite the fact that I now have a recipe for dark rye bread, I like to have the mix on hand too. It's convenient in case The Man of The House (TMOTH) decides he'd like to make sandwiches for dinner.
I tried a package of Sally Lunn Bread Machine Mix. Yummy! The loaf had a flaky crust. The texture was soft and kind of springy. It was a winner!
Prepared Pantry Coupon Code
Use code DIVA to save $5 on your Prepared Pantry order. (Note: 1 use per customer)
What Makes Sally Lunn Bread Special?
Sally Lunn bread is a sweet yeast bread. Historically, it was served as a bun or teacake instead of sliced bread.
The recipe has been around for over 200 years. It was first recorded in 1780 in Bath, England. There is a Sally Lunn Eating House in Bath. They claim that Solange Luyon, who later became known Sally Lunn, introduced the recipe for the buttery bread to England. Historians object, but it's a lovely story.
Charles Dickens mentions Sally Lunn in The Chimes, published in 1844.
"What sort of a night is it, Anne?" inquired the former porter of Sir Joseph Bowley, stretching out his legs before the fire, and rubbing as much of them as his short arms could reach; with an air that added, "Here I am if it's bad, and I don't want to go out if it's good."

"Blowing and sleeting hard," returned his wife; "and threatening snow. Dark. And very cold."

"I'm glad to think we had muffins," said the former porter, in the tone of one who had set his conscience at rest. "It's a sort of night that's meant for muffins. Likewise crumpets. Also Sally Lunns."
This quote thrilled me. Not only do I publish this website, but I have a website on the life and work of Charles Dickens. The quote represents two of my favorite interests coming together.
Preparation Notes
The Sally Lunn Bread Machine Mix is for 1.5 to 2 pound machines.
I added the ingredients from the mix to the bread pan. Note that I had to provide butter, water and eggs.
The instructions on the package call for water that's exactly 80 degrees. It also calls for melted and cooled butter. I use a Zojirushi bread machine. The bread cycle includes time for preheating. So I just used water from the tap and cut the butter into cubes.
However, if your machine doesn't have a preheat cycle, I'd recommend following the directions on the package.
I used the basic setting with medium crust.