Last Updated on September 25, 2019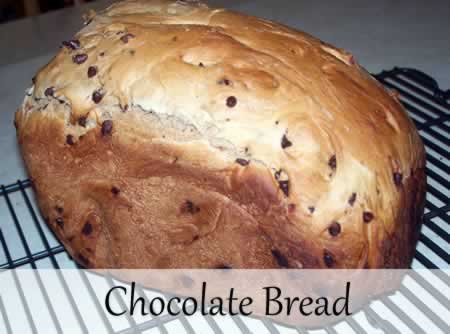 Looking for a tasty way to start your day? How about toasted chocolate bread topped with peanut butter? Sounds pretty good, right? Here's the recipe . . .
Chocolate Bread Recipe for the Bread Machine
1 3/8 Cup milk
1 Egg, lightly beaten
4 ¼ Cups bread flour
2 Tablespoon butter
3 Tablespoons sugar
1 ½ teaspoon salt
2 teaspoons active dry yeast
2/3 Cup chocolate chips
1 Tablespoon unsweetened cocoa
This makes a two pound loaf. Follow the instructions that came with your bread machine in terms of which ingredients to put in the bread machine first. (My Zo says to add the liquid ingredients first.) Use the basic setting with medium or light crust.
Technically speaking, the chips should be added at the add beep. However, I put in all the ingredients at the beginning. I'm just not satisfied with the mixing that occurs during the add beep.
Check on the dough after five or ten minutes of kneading. Pop the top of the bread machine and see how the dough is doing. It should be a smooth, round ball. If it's too dry add liquid a teaspoon at a time until it looks OK. If it looks too wet, add flour a tablespoon at a time until it looks OK. Most of the time though, the above amounts should be just right.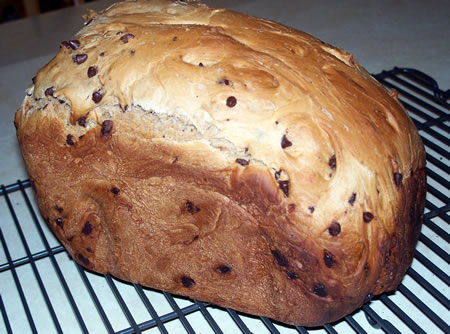 I wanted to mention that different people will have different results with this recipe in terms of how much the chocolate chips melt. It all depends on how hot your bread machine gets. Also, if you use mini chocolate chips then they'll melt more than the regular kind.