Cornbread in the Bread Machine
The Zojirushi bread machine has a cake setting. That would be perfect for cornbread right? That's what I thought. However, instead of giving a cornbread recipe the manual tells you to use a mix.
I'm sure that works and would be great in a pinch. I wanted a real recipe for cornbread though. So I tried my regular cornbread recipe in the bread machine. It turned out great!
Note that this recipe calls for melted butter.
In the bread recipes on this site, I tell people that if their machine has a preheat cycle to not melt the butter. The bread machine will do that for you. However, the Zojirushi cake setting doesn't have a preheat cycle. It starts mixing right away. So the butter needs to be melted in this instance.
Baking Powder
Note that this is not a yeast bread. It's a quick bread that uses baking powder as the leavening agent. The cornbread rises to about 2.5 inches in my machine.
What if your bread doesn't rise that high? The culprit could be old baking powder.
Here's a photo of two loaves of cornbread that I made recently. The loaf on the left was made with old baking powder and the loaf on the right was made with new baking powder.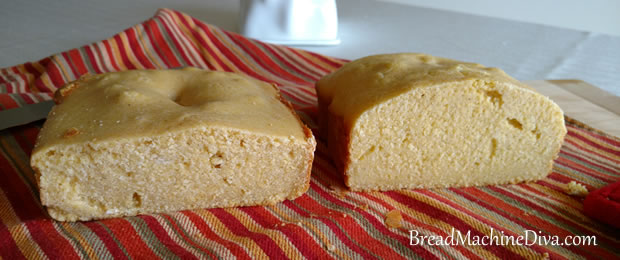 As you can see, the age of the baking powder makes a huge difference in the bread.
What is Cornmeal?
You'll note that this recipe contains cornmeal. What exactly is cornmeal? It's a coarse flour made from dried corn.
Most commercial cornmeal is made from either yellow or white dent corn. Dent corn is a type of field corn named for its dented kernels. Most of the corn grown in the United States is either yellow dent corn or a closely related variety.
In the United States, it's common to see steel-ground yellow cornmeal. With this product, the husk and germ of the corn kernel has been almost completely removed. The good news is that makes the cornmeal shelf-stable. The bad news is that it's not as nutritious.
If you'd like more nutritious cornmeal, look for "whole grain" cornmeal. That's typically stone-ground and is a coarser type of cornmeal. While this cornmeal is more nutritious, it's more perishable.
What Goes With Cornbread?
At our house, we often have cornbread with chili. It's a great combination!
Here's an idea for a fast dinner using cornbread. It's an all-American spin on the British dish of beans on toast. Heat a can of baked beans on the stove. Add sliced kielbasa to the pan and stir. When everything is warm, serve over sliced cornbread. It's fast, filling and delicious!
Here are other dishes that go great with cornbread:
BBQ of any type – We love it with BBQ ribs we make in the crockpot.
Roasted chicken or pork
Stews or soups – Green pea soup and cornbread are heavenly together!
Ham
Storing Cornbread
We sliced the cornbread and froze what we didn't eat. When we want a slice we just pop it in the toaster. It thaws and heats the cornbread all at once.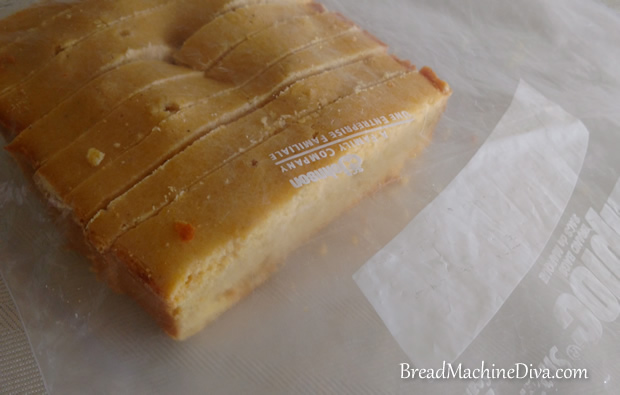 Cornbread Recipe for the Bread Machine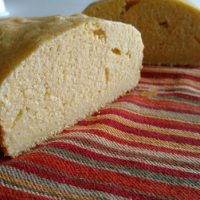 Cornbread in the Bread Machine
Did you know that you can make cornbread without a mix AND in the bread machine? It's true! Imagine homemade cornbread that's easy to make and tastes great!
Ingredients
2 eggs – lightly beaten
1 cup milk
1 cup cornmeal
1 1/4 cup bread flour
4 teaspoons baking powder
1/4 cup sugar
1 teaspoon salt
1 teaspoon vanilla
1/4 cup melted butter
Instructions
Follow the instructions that came with your bread machine in terms of which ingredients to put in the machine first.

Select the cake setting with a light crust.

If your machine doesn't have a cake setting, use the quick bread setting.
Recommended Products
As an Amazon Associate and member of other affiliate programs, I earn from qualifying purchases.
Nutrition Information:
Yield:

12
Serving Size:

1 slice
Amount Per Serving:
Calories:

163
Total Fat:

6g
Saturated Fat:

3g
Trans Fat:

0g
Unsaturated Fat:

2g
Cholesterol:

43mg
Sodium:

396mg
Carbohydrates:

24g
Fiber:

1g
Sugar:

4g
Protein:

4g
All information and tools presented and written within this site are intended for informational purposes only. I am not a certified nutritionist and any nutritional information on breadmachinediva.com should only be used as a general guideline. This information is provided as a courtesy and there is no guarantee that the information will be completely accurate. Even though I try to provide accurate nutritional information to the best of my ability, these figures should still be considered estimates.