Bread Cooling Rack Update
Sometimes the little things in life can make a big difference. This bread cooling rack makes me happy every time I use it.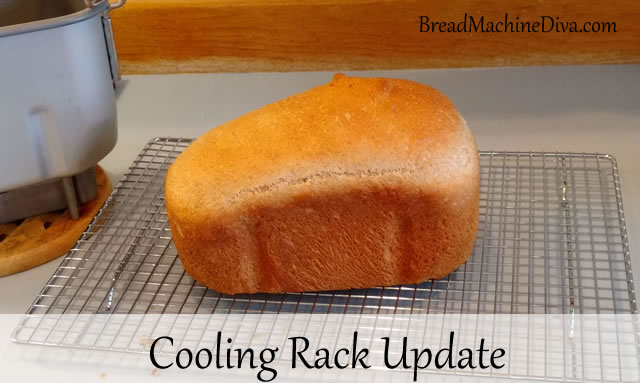 Last Updated on May 18, 2023 – Originally posted in December of 2019
Late in 2019, I replaced my trusty bread cooling rack. It served me well over the years, but I noticed it was getting a little rusty. So out with the old and in with the new!
I purchased the 16.5 by 11.75 inch baking and cooling rack by Mrs. Anderson.
As I was reading the reviews for different cooling racks on Amazon, I noticed that the big complaint was rust. People bought a cooling rack, only to discover that it quickly became rusty. This seemed to happen on every cooling rack I read about.
Now it's August of 2023 and I'm happy to report that my new cooling rack hasn't rusted at all! It's as bright and shiny as the day I got it.
I'm thrilled with it. The cooling rack is a good size and works well with items coming out of the bread machine.
While the rack can be used for baking, we've only done that once. Its main function is cooling bread items. We hand wash it when needed and to be honest, it doesn't need to be washed that frequently.
This cooling rack by Mrs. Anderson has lasted years with no rust. I highly recommend it!