Anytime Eggnog Bread Recipe
Last Updated on September 24, 2019
Every year, as the holidays approach, I watch for the appearance of eggnog. Once I have eggnog I can make one of my favorite breakfast breads, eggnog bread. Then the holidays are over and the cycle repeats.
However, what if I could make eggnog bread all year? Over the last few months I've tried to recreate the taste of eggnog bread, but without the eggnog. I've finally got something close enough to share with you.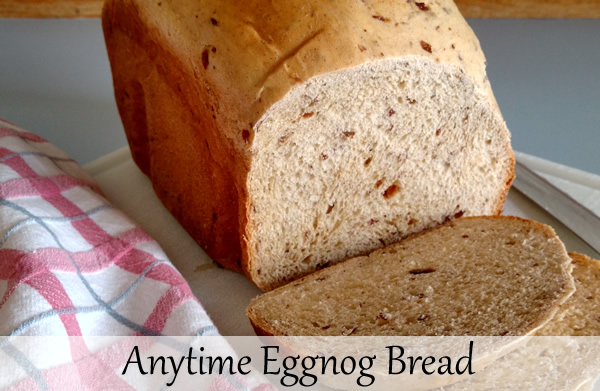 Anytime Eggnog Bread
2 eggs, beaten
1 ½ cups half and half (you're actually going to use a little less, be sure to read the instructions)
4 cups bread flour
½ cup dried cranberries or raisins
1 ¼ teaspoon salt
2 Tablespoons sugar
1 teaspoon cinnamon
1 teaspoon vanilla
¼ teaspoon nutmeg
⅛ teaspoon allspice
1 ¾ teaspoons active dry yeast
This recipe makes a two-pound loaf. Follow the instructions that came with your bread machine in terms of which ingredients to put in the bread machine first.
Put the two eggs in a measuring cup and lightly beat them. Fill the measuring cup to the one cup mark with half and half. Then add an additional 1/2 cup of half and half. In other words, you'll be using 1.5 cups of half and half less the amount of the two eggs.
I used the basic cycle and the medium crust setting.
Make sure you check on the dough after five or ten minutes of kneading. It should be a round ball. If it's too dry add liquid a teaspoon at a time until the dough balls up. If it looks too wet, add flour a tablespoon at a time until it looks as expected.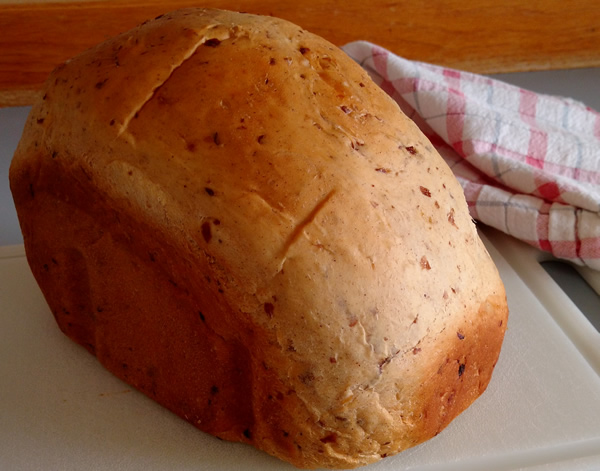 This bread smells heavenly while it toasts, filling the room with scents of cinnamon and nutmeg. Add some cream cheese and you're in heaven!!