Eggnog Bread for the Bread Machine
Last Updated on September 25, 2019
This recipe calls for two seasonal items, eggnog and dried cranberries. You can substitute raisins for the cranberries if you'd like, but the cranberries give the bread a little zing. Plus they're really pretty in the finished product.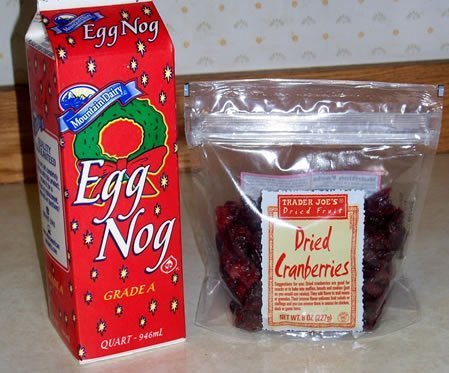 Eggnog Bread – Two Pound Loaf

1 cup eggnog
½ cup milk
4 cups bread flour
½ cup dried cranberries or raisins
1 ¼ teaspoon salt
2 Tablespoons sugar
1 Tablespoons oil or butter
1 teaspoon cinnamon
1 ¾ teaspoons active dry yeast
Follow the instructions that came with your bread machine in terms of which ingredients to put in the bread machine first.
11/27/2014 Update: I've made this bread with two different machines. On the Zojirushi Virtuoso breadmaker the medium crust is best with this recipe. However I liked the light crust setting when I used my Zojirushi BBCCX20 Bread Machine.
Make sure you check on the dough after five or ten minutes of kneading. Pop open the top of the bread machine and see how the dough is doing. It should be a round ball. If it's too dry add liquid a teaspoon at a time until the dough balls up. If it looks too wet, add flour a tablespoon at a time until it looks as expected.
Here's the loaf as it came out of the bread machine . . .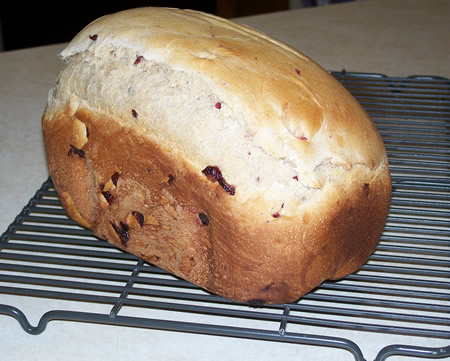 And here's how it looked when it was sliced . . .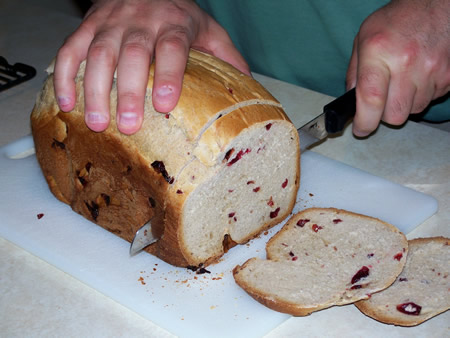 See how pretty those cranberries are? And how does it taste? It's really, really good. The bread has a cake-like texture. There's a slight nutmeg, eggnog flavor. The cranberries give it a little bit of contrast.
So far I've had it plain and toasted with butter. This weekend I want to try it as French toast. Yum!
Note: Don't despair if it's summer and you'd like some eggnog bread. I've got a recipe for Anytime Eggnog Bread. It captures the taste of this yummy bread, but without the eggnog.