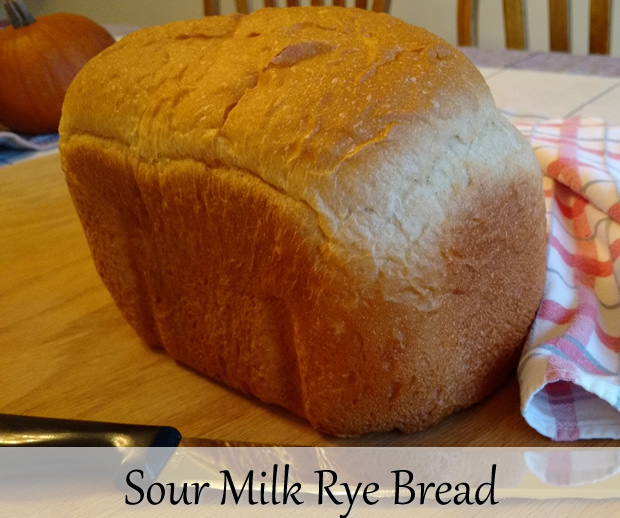 This variant of the sour milk bread recipe was suggested to me by a reader, NoMercy. I tried it out and it's a winner!
The bread is moist and tastes a little like sourdough bread because of the sour milk. It doesn't have a rye flavor, but it does have a subtle heartiness. The bread has a good texture that makes it a natural for sandwiches.
Sour Milk Rye Bread – Two Pound Loaf

1 ½ cups sour milk (Don't have sour milk? See below.)
3 cups bread flour
1 cup light rye flour
1 ¼ teaspoon salt
4 Tablespoons sugar
1 ½ Tablespoons oil
1 ¾ teaspoons active dry yeast
Follow the instructions that came with your bread machine in terms of which ingredients to put in the bread machine first. I use the basic setting with medium crust. Make sure you check on the dough after five or ten minutes of kneading. It should be a smooth, round ball.
Sour Milk: Don't have sour milk? No worries! In general, you can make sour milk by adding one tablespoon of vinegar to one cup of room-temperature milk. Then stir and wait about 5 minutes.
So in this case, I added 1.5 tablespoons of vinegar to 1.5 cups of room-temperature milk. I gave it a good stir. In five minutes I stirred it again. Then I removed 1.5 tablespoons of the sour milk mixture, so I had 1.5 cups of liquid.