Bread Machine Recipe for Peanut Butter Bread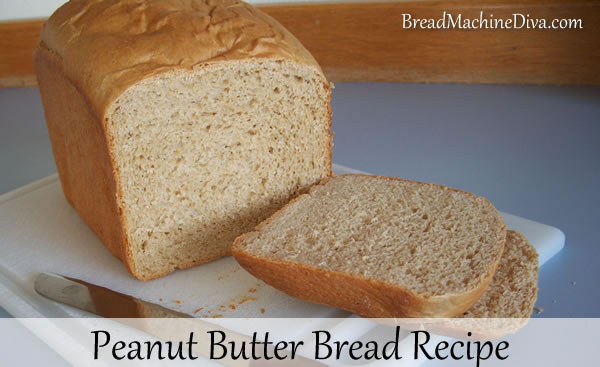 Recently a visitor on my Facebook page asked for a recipe for peanut butter bread.  I'd never even had peanut butter bread, but I just couldn't get her request out of my mind.  So I did some investigation and some baking and come up with this recipe.
The bread is thick and chewy.  It has a lovely peanut butter taste and aroma.  It is heavenly for breakfast toasted and with some Nutella on top.
Bread Machine Recipe for Peanut Butter Bread
4 cups bread flour
1 1/2 cups water
2/3 cup peanut butter (I used Jif Creamy)
1/3 cup brown sugar
2 teaspoons salt
3 1/2 teaspoons active dry yeast
This makes a two pound loaf. Follow the instructions that came with your bread machine in terms of which ingredients to put in the bread machine first. With my machine (a Zojirushi BB-PAC20 Virtuoso), I add the liquid first.
I used the basic bread setting and chose "medium" for the crust setting. Check on the dough after five or ten minutes of kneading. Just open the top of the bread machine and see how the dough is doing. It should be a smooth, round ball.