Dill Bread for the Bread Machine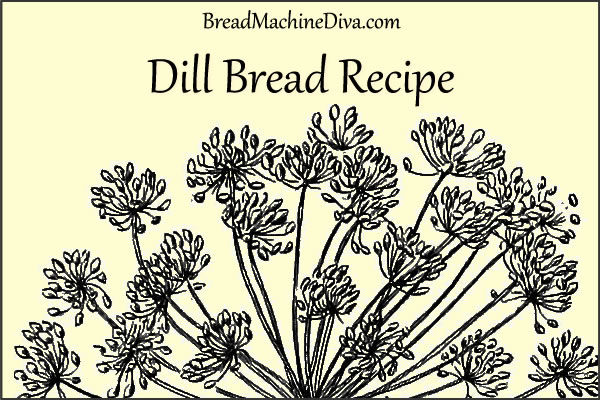 The Man of the House and I used to participate in a CSA (Community Supported Agriculture) program.  Once a week we'd get a variety of veggies fresh from the farm.  One week our farm share included fresh dill.
I knew I'd seen a recipe for dill bread and thought this would be the perfect opportunity to give it a try.  I was a bit dubious about the cottage cheese in the recipe.   I tried it anyway and you know what?  The bread was VERY good.  It had a lovely taste and texture that was perfect toasted and topped with cream cheese.  We also used this savory bread in sandwiches.  We'll be making this one again!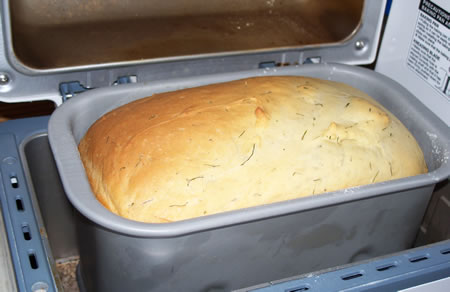 Dill Bread Recipe
1 1/3 cup cream-style cottage cheese
1/3 cup water
1 egg. beaten
4 cups bread flour
3 Tablespoons butter
1 Tablespoon sugar
1/3 cup chopped, fresh dill (OR you can use 2 1/2 teaspoons dried dill weed)
1 teaspoon salt
1/4 teaspoon pepper
1 1/4 teaspoons active dry yeast
This makes a two pound loaf. Follow the instructions that came with your bread machine in terms of which ingredients to put in the bread machine first. With my bread machine, I add the liquid first. I used the basic bread setting and chose "medium" for the crust setting.  Check on the dough after five or ten  minutes of kneading.  Just pop the top of the bread machine and see how the dough is doing.  It should be a smooth, round ball.  If needed you can add a little water or flour.
When I make this again, I'm going to try adding more dill.