Applesauce Bread for the Bread Machine
Last Updated on September 25, 2019
In general, the Man of the House does not like bread containing wheat flour. However, he makes an exception for this wonderful bread.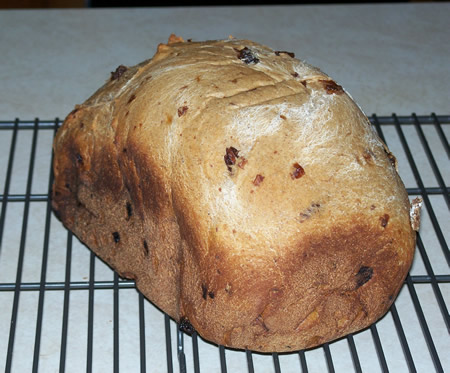 Applesauce Bread for the Bread Machine – Two Pound Loaf
1 ¼ cups applesauce
2 Tablespoons olive oil
1 ½ Tablespoons sugar
1 teaspoon salt
1 ½ teaspoon cinnamon
1 cup whole wheat flour
2 ¼ cups bread flour
1 ½ teaspoons active dry yeast
¼ cup raisins (optional)
I use the basic setting for this recipe.
Follow the instructions that came with your bread machine in terms of which ingredients to put in the machine first.
Make sure you check on the dough after five or ten minutes of kneading. Since the consistency of applesauce can vary dramatically, this is a very important step. Just pop the top of the bread machine and see how the dough is doing. It should be a smooth, round ball. If it's too dry add liquid a teaspoon at a time until it looks right. If it looks too wet, add flour a tablespoon at a time until it looks right.
This makes a smallish, two-pound loaf.
I've made the bread both with and without raisins. I can't decide which I like better as both ways are very good.