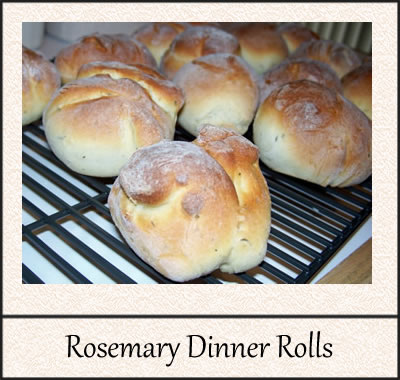 Want to make some dinner rolls that will make people stop and take notice? Then try this rosemary dinner roll recipe. The flavor is amazing!
One of the reasons that I tried this recipe is that I love growing rosemary. Here's a photo from my herb garden that I took a few years ago.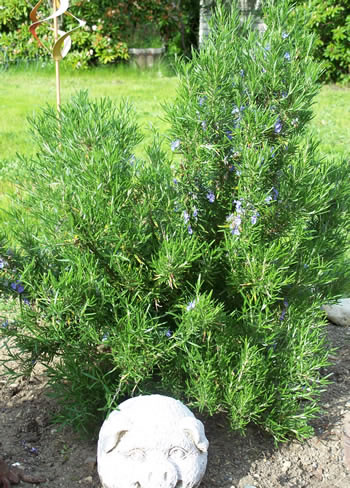 A second reason that I was excited about these dinner rolls is that I love the bread version of this recipe. So if you try these dinner rolls and like them, be sure to check out the recipe for rosemary bread.
Rosemary Dinner Rolls Recipe for Two-Pound Machine
2/3 C. Milk
2 Eggs
3 C. Bread Flour
2 1/2 Tablespoon Sugar
11/2 teaspoon Salt
1 1/2 Tablespoon Butter or Olive Oil
1 teaspoon Chopped, Fresh Rosemary (or 1/4 teaspoon dried rosemary)
1/2 teaspoon Dried Thyme
1/2 teaspoon Dried Cilantro
2 teaspoons active dry yeast
In a large measuring cup or bowl mix the milk and the egg. Put in the dried spices to rehydrate them. Then follow the instructions that came with your bread machine in terms of which ingredients to put in the machine first. Set the machine on the dough setting.
When the dough is done put it on a lightly floured surface.
Divide the dough in half so that it's easier to work with. Then divide the dough into dinner roll sized balls and flatten them a little bit. (I ended up with about 16.)
Put the dough on a greased cookie sheet. Cover the rolls with a clean, light-weight kitchen towel and let the rolls rise for half an hour.
Then remove the towel and put the rolls in a 400 degree oven for 10 to 15 minutes.
Move the cooked rolls to a rack to cool.