Bread Machine Pizza Dough
Once a month the Man of The House makes us pizza. Any more than once a month and we wouldn't fit through the front door.  If we had it any less, we'd have horrific pizza withdrawal symptoms.
Bread Machine Pizza Dough
1 – 1/2 Cups water
1 – 1/2 Tablespoons olive oil
3 – 3/4 Cups bread flour
1 – 1/2 Tablespoons sugar
1 – 1/2 teaspoons salt
1 – 1/2 teaspoons bread machine yeast
Follow the instructions that came with your bread machine in terms of what ingredients to add first.  Use the dough setting of your bread machine.
As an aside, this is a great all-purpose recipe.  I use it for hamburger buns and even dinner rolls.
Once the dough is done, roll it out and make two rectangles.  The above recipe works perfectly for our two extra large cookie sheets. Lay the dough in the cookie sheets.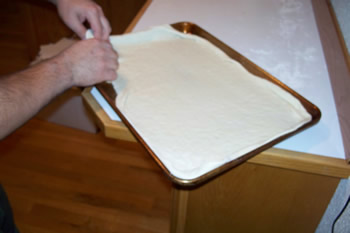 Then brush the pizza dough with olive oil to seal it. Add your pizza ingredients.  We typically start with tomato sauce.  Then we add diced red peppers, garlic and onion. The Man of the House believes in lots of pepperoni.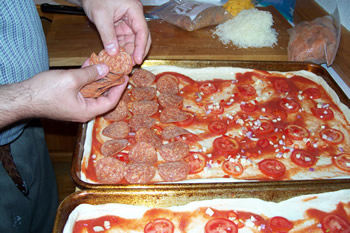 The cheese is next.  Typically the Man of the House adds sliced mozzarella, grated Romano and grated cheddar.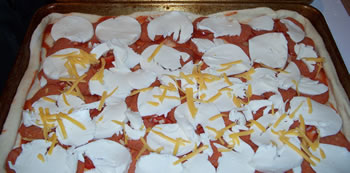 Once the pizza is assembled the Man of the House bakes it for 25 minutes at 400 degrees.
With two pizzas we not only have a great dinner, but lots of  yummy lunch left overs.