The Man of the House (TMOTH) makes us pizza once a month.  He takes his pizza very seriously.  This means that he uses quality ingredients, a pizza stone and he makes the dough from scratch using the bread machine.
Recently TMOTH tried a new pizza crust recipe.  It uses semolina flour, the same type of flour used to make many types of pasta.  It turned out great!  The dough was easy to work with and the pizza crust was chewy and tasty.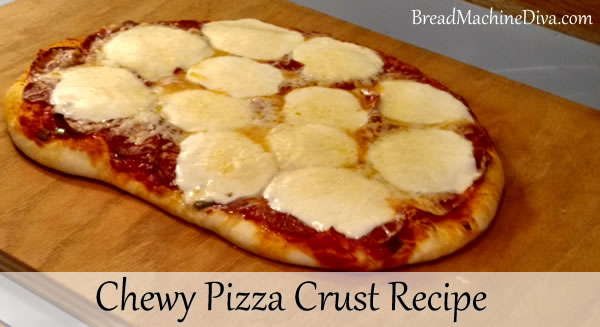 Chewy Pizza Crust Recipe – 2 Pound Machine
1 ¼ cups water
2 cups bread flour
1 cup semolina flour
½ teaspoon sugar
1 teaspoon salt
2 teaspoons olive oil
2 teaspoons active dry yeast yeast
Follow the instructions that came with your bread machine in terms of what ingredients to add first.  Use the dough setting.
To cook the pizza, follow the instructions on this page if you have a pizza stone OR follow the instructions on this page to make pizza using cookie sheets.