Beer Bread Recipe – Two Pound Loaf
Last Updated on September 25, 2019
A reader asked if I had a beer bread recipe. I didn't, but I do now!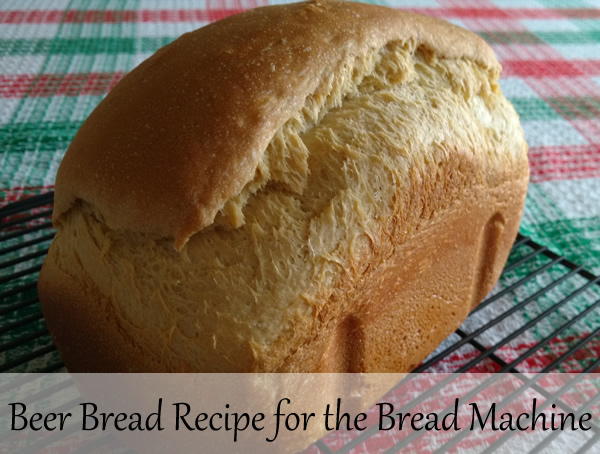 To be honest, I'm not a fan of beer. So I was relieved that the bread didn't taste like beer at all. The flavor was hard to describe. It was hearty and kind of "old-world". The loaf was soft and chewy with a crunchy crust. We used to to make some wonderful ham sandwiches.
Keep in mind that the flavor of the bread, as well as the loaf size (due to residual yeast in the beer), will vary depending on what beer you use. I made this loaf with Samuel Adams Boston Lager.
Beer Bread Recipe – For a Two Pound Machine
9 Ounces of beer, flat (see below for instructions)
3 1⁄2 Cups bread flour
1⁄4 Cup sugar
3⁄4 teaspoon salt
2 Tablespoons olive oil
2 1/4 teaspoon active dry yeast
This recipe calls for flat beer. I poured the nine ounces of beer into a bowl and let it sit out for three hours. While it wasn't totally without carbonation, that was close enough to do the job.
This makes a two pound loaf. Follow the instructions that came with your machine in terms of what order to add the ingredients to the bread machine pan. My Zojirushi recommends adding the liquid ingredients first.
I used the basic cycle with the dark crust setting.
After five or ten minutes of kneading check to see how the dough is doing. It should be a smooth, round ball. If it's too dry add liquid a teaspoon at a time until it looks as desired. If it looks too wet, add flour a tablespoon at a time until it looks OK.