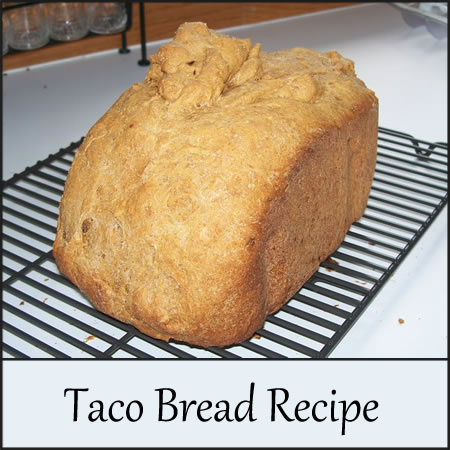 We used this spicy bread to make open-faced Sloppy Joes. Using taco seasoning mix for the spices makes it quick to put together.
A surprising thing about this recipe, surprising to me anyway, is that it contains wheat flour. The Man of the House doesn't really like wheat flour, but he didn't mind it in this recipe.
What's all the stuff happening on the top of the loaf? That was another surprise. It's just the way the bread came out of the machine. Chances are that your loaf will look more "normal" than this. 🙂
Taco Bread – Two Pound Loaf
1 1/2 C. Water
2 2/3 C. Bread Flour
2 C. Whole Wheat Flour
2 Tbsp. Sugar
3 Tbsp Taco seasoning mix
1 1/2 tsp. Salt
2 Tbsp Olive Oil
2 tsp active dry yeast
This makes a two pound loaf. Follow the instructions that came with your bread machine in terms of which ingredients to put in the bread machine first.