Banana Jam Recipe for the Bread Machine
Did I mention that my bread machine can make jam?  It can!   The Zojirushi bread machine has a jam setting.  So you know I had to try it out. It works great!
I use it to make banana jam.  What's banana jam like?  It's a refrigerator jam that's pretty tasty on toast.  It also double as ice cream topping and is a nice addition to plain yogurt.
Banana Jam Recipe – Two Pound Machine
3 very ripe bananas, mashed
juice of 3 lemons
sugar
Combine the mashed bananas and the lemon juice into a measuring cup.  See how much you've got.  (It all depends on how big the bananas are, but it should be around 2 cups.)  Put the banana-juice mixture into the bread pan.  Then add a cup of sugar for every cup of the banana-juice mixture.
Start up the bread machine on the jam setting.  In about an hour and a half your house will smell wonderful and you'll have yourself some banana jam.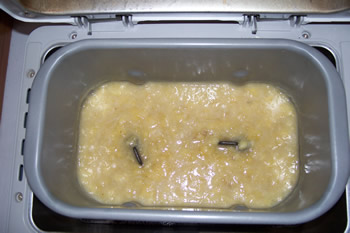 Skim off the froth, let it cool and put the jam in the refrigerator.