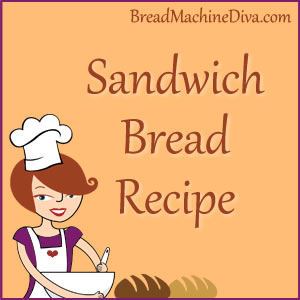 My current machine is my fourth Zojirushi.  An earlier model had a sandwich bread setting.  The sandwich bread is a little heavier than the other breads.  It really makes good sandwiches and is the favorite bread of The Man of the House.
But later Zo models don't have the sandwich bread setting.  However they do have a "home made" function.  It allows you to add a "bread program" into the machine.   Here's how it works . . .
Using the Home Made Function
To make bread the machine has to go through a series of steps.  It warms up, it kneads, it allows the bread to rise, it beats the dough down and then has it rise again.  Finally the machine bakes the bread.  The sandwich bread setting was really just a program that went through a slightly different process than the other bread machine settings.  I emailed Zojirushi and asked them for the specific steps the machine had to take in order to make the sandwich bread.  I heard back from them within 24 hours! I then used the home made function to program the machine to make sandwich bread.
It's kind of like programming your DVR to record a program.  Only in this case I'm telling the bread machine what steps to take to make the sandwich bread.
Sandwich Bread Recipe – Two Pound Loaf
1 1/3 Cup plus 1 Tablespoon Water
4 1/4 Cup Bread Flour
3 Tablespoons Sugar
2 Tablespoons Powdered milk
2 Tablespoons Olive Oil
1 1/2 teaspoons Salt
2 teaspoons active dry yeast
Sandwich Bread Program
Preheat: 20 min
Kneading: 15 – 18 min.
Rise 1: 45 min.
Rise 2: 20 min.
Rise 3: 45 min.
Bake: 50 min.