Banana Jam Recipe for the Bread Machine
Did I mention that my bread machine can make jam?  It can. Zojirushi Bread Machines actually have a jam setting.  It's what I use to make my banana jam.
Banana Jam Recipe – Two Pound Machine
3 very ripe bananas, mashed
juice of 3 lemons
sugar
Combine the mashed bananas and the lemon juice into a measuring cup.  See how much you've got.  (It all depends on how big the bananas are, but it should be around 2 cups.)  Put the banana-juice mixture into the bread pan.  Then add a cup of sugar for every cup of the banana-juice mixture.
Start up the bread machine on the jam setting.  In about an hour and a half your house will smell wonderful and you'll have yourself some banana jam.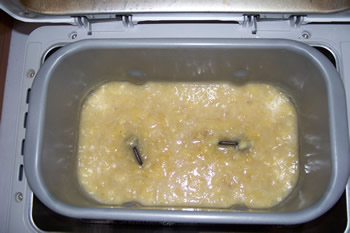 Skim off the froth, let it cool and put the jam in the refrigerator.  The jam also doubles as ice cream topping or a nice addition to plain yogurt.