How Much Does it Cost to Make Bread in a Bread Machine?
Updated July 13, 2017
We all know that the bread coming out of your bread machine is better than most (if not all) breads you can buy at the store. However, have you ever wondered how much it costs to make a loaf of bread in your bread machine? I know I have. So I decided to do an analysis.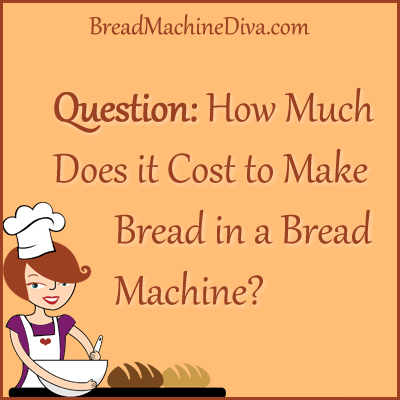 The recipe I use most frequently is for a two-pound loaf of sour milk bread. I make it with regular (not sour) milk and I make a loaf or two a week. The bread is great for sandwiches or toast. It turns out a perfect loaf every time and it's quick to put together because it doesn't have a lot of ingredients.
The Man of the House (TMOTH) put together this spreadsheet for the sour milk bread recipe. Here's the cost of bread for a two-pound loaf of sour milk bread.

Yes, you're reading it correctly. It costs us just 85 cents to make a loaf of bread.
You should know that all of the above items, except the milk, were purchased in bulk. We buy bread flour at Cash & Carry. We get the salt, sugar, oil and yeast at Costco. We live in a rural area and buy milk at our local IGA grocery store.
A Different Spin on the Same Recipe
Kim, a loyal reader of this blog, saw my cost analysis and very kindly sent me her costs for the same bread recipe. (You can see her original comment below.) Kim uses soy milk and Himalayan salt in her bread. She doesn't buy her groceries in bulk. Here's what it costs her to make a loaf of bread.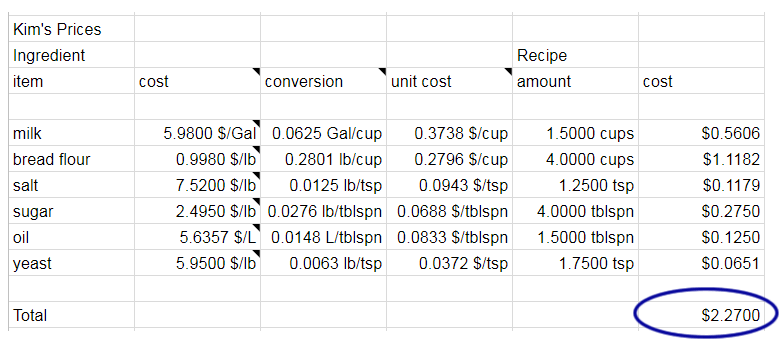 Do You Save Money Using a Bread Machine?
So how do these costs compare with the cost of bread purchased at the grocery store or Amazon Fresh?
Both my bread and Kim's bread are less expensive than bread purchased at the grocery store or at Amazon. However, I think that for a good comparison of Kim's recipe we'd need to compare it with bread purchased from a bakery or at Whole Foods.
Admittedly, this isn't a perfect analysis. The loaves of bread aren't all the same size. We haven't allowed for the cost of electricity to run the machine. But even these rough numbers show that once you have a bread machine you can make great bread for much less money than you'd pay at the store.
Kim demonstrated another important benefit of having a bread machine. A bread machine gives people the freedom to have bread exactly the way they want it.